Perfect for Veterinary Laboratories
The veterinary industry continues to evolve, driving new and improved diagnostics and treatment of pets and animals. The Matrix Gemini Veterinary LIMS simplifies and speeds up the process of booking in and processing submitted animal samples for analysis in a veterinary laboratory. Built in result limit checking based on specific species and breed reference ranges, instantly sift and highlight results of concern. Features such as rapid barcode scanning, automated invoicing and short code dictionaries (animal species, etc.) reduce the time needed for tracking work in the system. This in turn allows a higher volume of business to be undertaken and enables easy record management.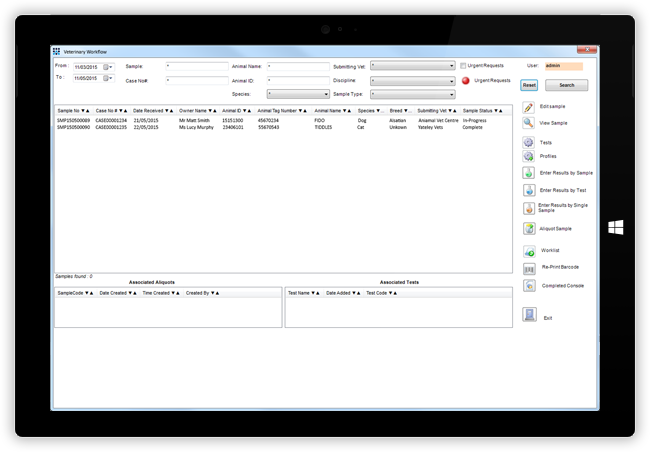 Added value comes with the interfacing of analyzers saving technician time and improving the reliability of the captured data. Reference limits can be automatically applied to every test result with warnings given for any abnormal values. A further module is designed for pet crematoria providing a complete solution for all aspects of the business.
Key Veterinary LIMS Features:
Full integration of Microchip, Vet XML and VeNOM codes
Veterinary specific short code dictionary
Rapid scan with barcodes maximizing throughput
Flexible billing including discount thresholds automatically associated to regular customer invoices
System access based on authority and responsibility for each user of the system
Species and breed dependent reference ranges for tests
Suitable for single or multi-site implementation with management visibility and reporting
Currency conversion options
Quoting and invoicing
Designed for Evolving Veterinary Laboratories
The configurability of the Matrix Gemini Veterinary LIMS means that it can be configured and re-configured to meet both current and future requirements without the need to write "one-off" custom code. The use of this standard but configurable solution means that the potential life of the system is extended and the cost of ownership reduced.

Find Out More
For further information see our Matrix Gemini Veterinary LIMS Brochure.
Case Study
Nationwide Labs chose Matrix Gemini to use across multiple sites.
Download PDF
Thank you for your interest. Please complete the form to access this document. We respect privacy and your personal details will not be shared.