Improve your laboratory efficiency
Configurable, future-proof LIMS
By leading the way in system configuration techniques Autoscribe software solutions can match your exact requirements without writing any programming code. This enables Matrix solutions to keep pace with changing business requirements leading to longer system life, lower costs and improved return on investment.
---

Autoscribe Laboratory Information Management Systems (LIMS) enable you to track samples and manage data within many different laboratory environments across a wide range of industries.

Autoscribe Business Information Management Systems (BIMS) are used to track assets, staff competencies, documents, actions, helpdesk issues, customer feedback and much more.

Farmacosmetica
August 26-28, 2020 - ÁGORA Convention Center, Bogotá, Colombia
The most important academic, scientific and commercial congress of the pharmaceutical and cosmetic sector in the region. Organized by the National College of Pharmaceutical Chemists of Colombia and the Colombian Association o
All events
"Matrix has met and exceeded our expectations"..."The post sales support has been awesome".

View Case Study
"The direct transfer of data into reports using veterinary standard VETXML (an industry-standard computer format for transferring veterinary related data and information) is really useful"

View Case Study
"The ability to do our own configuration when we want to is very important, and Autoscribe automatically provides support for all of our own configurations"

View Case Study
"Matrix Gemini provides a centralized system for data tracking. We wanted to be able to track sample items, data, results, status etc., and now we can"

View Case Study
"We are a long-term satisfied customer. Autoscribe accommodates customer suggestions for new features in the LIMS"

View Case Study
"We are delighted with the support we have received from Autoscribe. We are 'tweaking' the system all the time. The future potential for the system is huge, we can develop it in the direction that suits us best"

View Case Study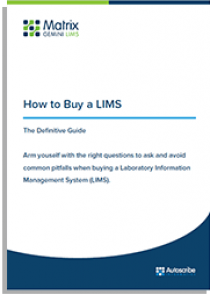 How to buy a LIMS
Whether you are purchasing your first Laboratory Information Management System or replacing an existing LIMS this free How to Buy a LIMS guide will help you find the right solution to fit your specific requirements.
Free Download