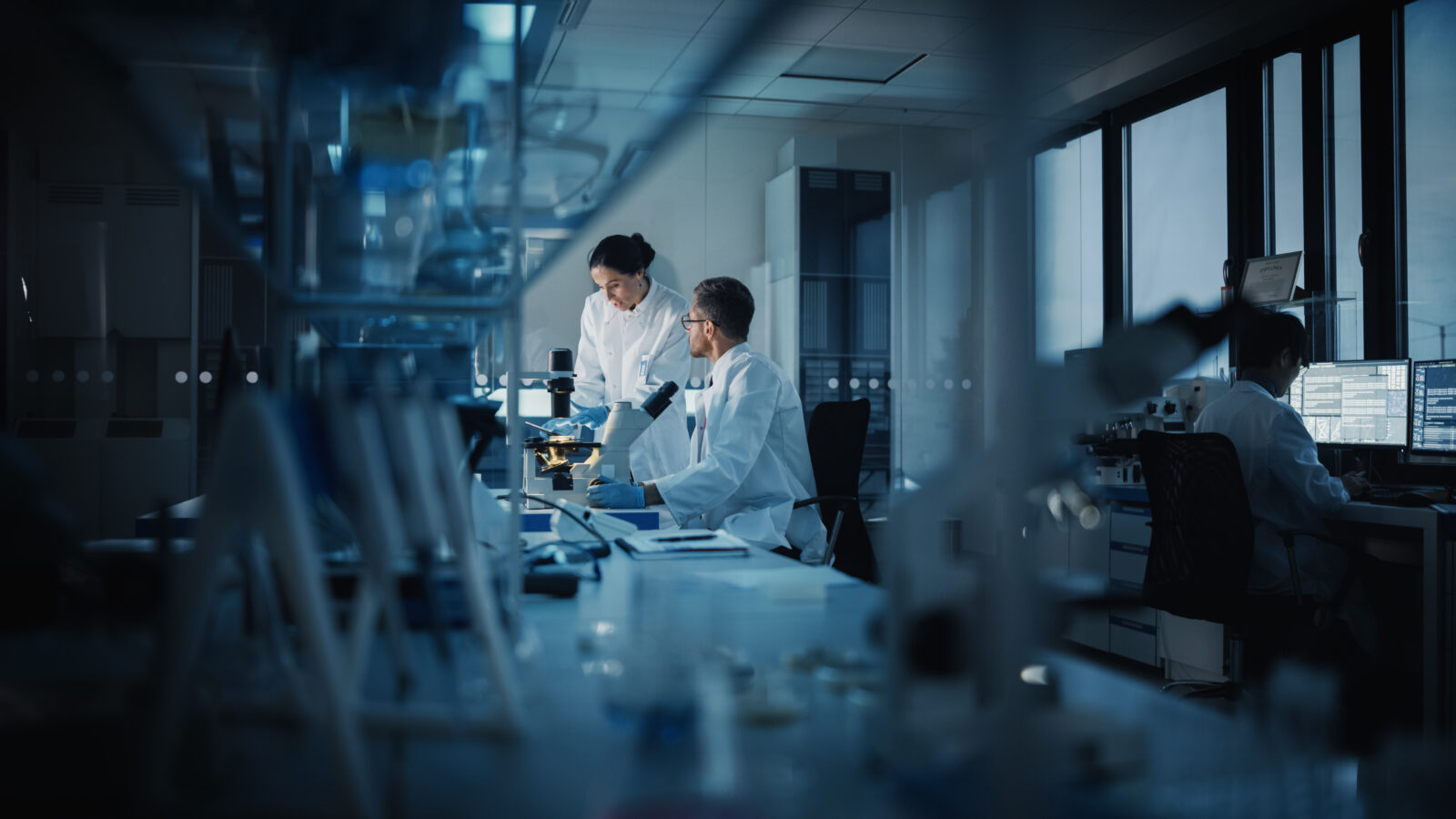 Autoscribe Informatics
Driving Efficiency, Accuracy, and Innovation in Lab Management
About Autoscribe Informatics
Delivering Configurable Future-Proof Solutions​
Autoscribe Informatics offers industry leading configurable future-proof database management applications. Solutions include Laboratory Information Management Systems (LIMS) and Quality Management Systems that are configured to match user requirements and can easily adapt as needs evolve.
unique to Autoscribe
Limitless Configuration, With No Custom Coding
Autoscribe Informatics solutions uniquely feature genuine configuration capabilities, with no custom coding, ensure an exact fit to customer requirements for any laboratory or process. All systems utilize the same tested and verified core software. The built-in configuration tools enable workflows, screens and much more, to be adapted to the exact needs of each client. Every screen in the workflow can be optimized to follow the operating procedures, language and terminology used. This ensures the user interface is familiar and easy to understand for every user.
Configuration changes can be made either by Autoscribe or clients themselves without invalidating support agreements. This too is unique to Autoscribe Informatics solutions. Since systems are easy to configure modify and update Autoscribe solutions have a longer than average system life, resulting in a reduced cost of ownership.
10 Reasons
Why choose Autoscribe?
Matrix systems are designed for change

Matrix systems are built to your design, not ours

Matrix systems are supplied with a unique set of configuration tools

Matrix systems provide a dual Windows/Web interface

Matrix systems are scalable

Matrix systems have an outstanding record for customer satisfaction

Matrix systems have been developed in a Microsoft .NET framework

All Matrix systems use the same core code

Help desks are staffed by Matrix experts

Minimize the risk of a business system implementation by choosing Matrix
Worldwide Team Ready to Help You
Our worldwide team of LIMS, scientific and business software professionals are passionate about delivering solutions that meet the evolving needs of our customers. We leverage our highly configurable solutions and our 30+ years of experience to help our customers automate their processes to work more efficiently, provide real cost savings and meet regulatory compliance needs.
Autoscribe has offices in the UK, USA, and Australia, with distributors around the world.
Laboratory Informatics
We have an enviable track record of delivering flexible long-lasting laboratory informatics solutions, with a real return on investment, to laboratories large and small across a wide range of industries. Our consulting, implementation and support services help customers migrate from legacy or paper systems and incorporate new instrumentation into Matrix Gemini LIMS solutions.
Autoscribe Informatics always strives to offer fast responses, quick decisions and competitive, fixed price quotations. We pride ourselves in delivering solutions designed to meet your precise needs and drive the success of your business.
Company Information
Autoscribe Limited, trading as Autoscribe Informatics, is registered in England & Wales. The Company was incorporated in 1981. Autoscribe Limited is a wholly-owned subsidiary of Xybion Digital Inc. (TSXV: XYBN).
Company No: 01539748
DUNS No: 294303466
Vat No: GB 314 7265 68
ISO 9001:2015 Certification
ISO 9001 is a quality management system framework. Autoscribe uses this framework to continually review its business practices to improve processes and be more efficient. It helps Autoscribe document operating procedures and adopt best practice across the business.
Autoscribe Informatics is ISO 9001:2015 certified with the United Registrar of Systems. Our certificate number is: 1329/A/0001/UK/En. URS certificate authentication can be performed by putting in our certificate number (1329/A/0001/UK/En) here.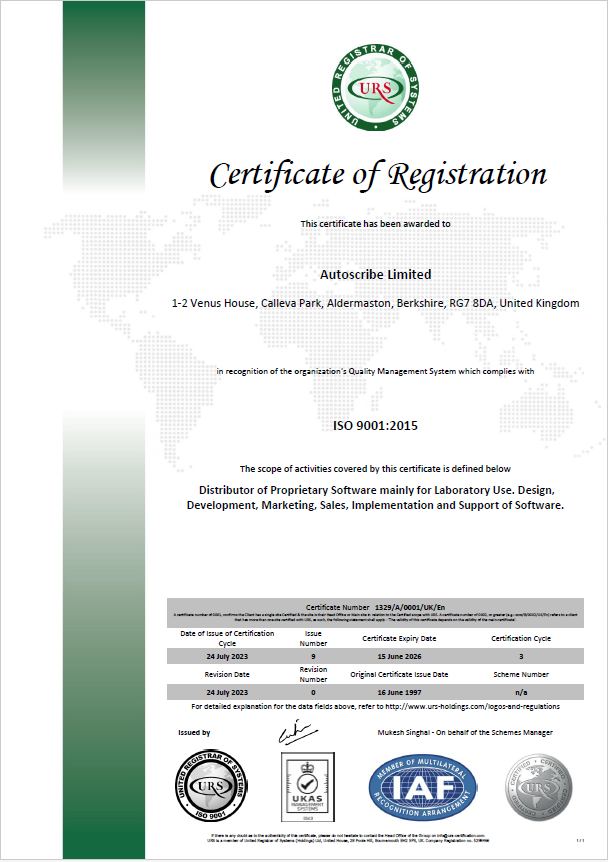 ISO 14001:2015 Certification
Autoscribe Informatics is committed to improving its environmental performance through more efficient use of resources and reduction of waste. ISO 14001 provides an environmental management framework allowing us to monitor and continuously improve our performance.
Autoscribe Informatics is ISO 14001:2015 certified with the United Registrar of Systems. Our certificate number is: 00690/B/0001/UK/En. URS certificate authentication can be performed by putting in our certificate number (00690/B/0001/UK/En) here.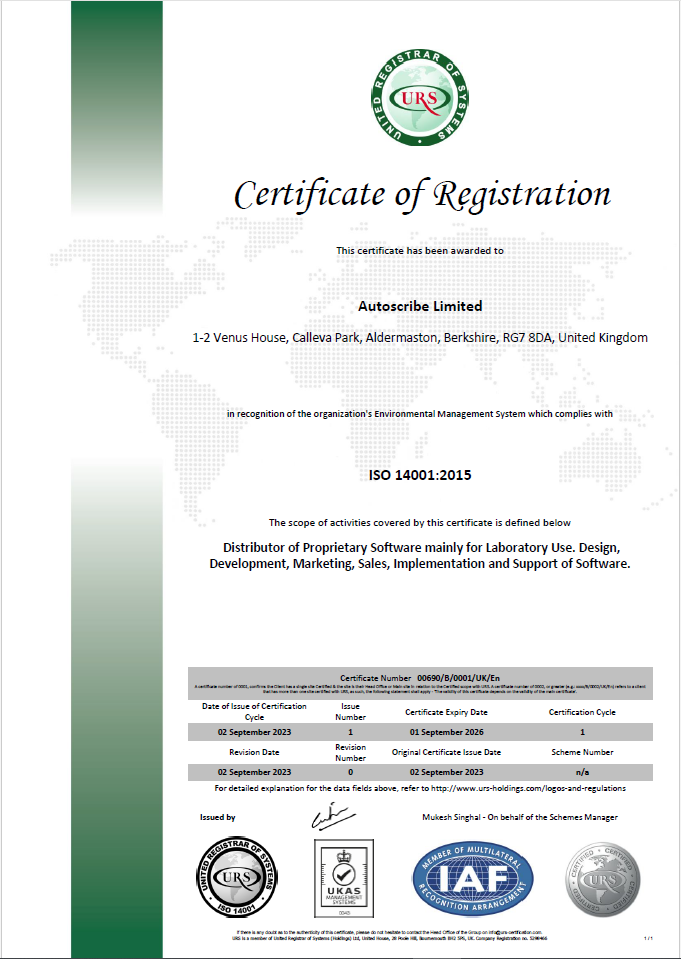 Data Security & Cyber Security
Autoscribe Informatics takes steps to guard the data in has under its control, and manage access to our networks. It has worked to meet the requirements of Cyber Essentials, a UK Government-backed, and internationally recognized scheme, to help organizations protect themselves against common online threats. This helps Autoscribe, and its clients, guard against common cyber threats and publicly demonstrates our commitment to cyber security.
Our Cyber Essentials authentication can be performed by scanning the QR code on the certificate.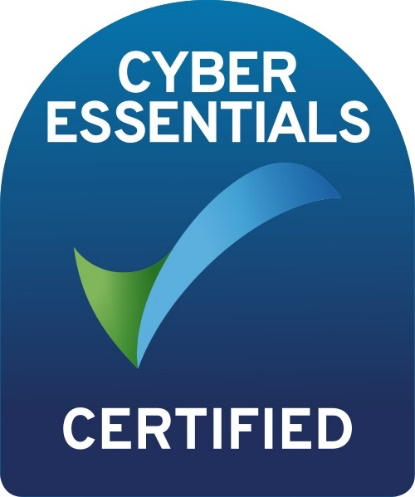 Let's Talk
Ready to get started? Contact us today.
Let's connect and we'll arrange a Matrix LIMS demo.