Biorepository management systems allow the storage and retrieval of biospecimens, and associated data, to exacting regulatory requirements. Biorepositories are a key element in a growing number of organizations in biotechnology, pharmaceutical and medical research. They require tight regulation and security as they contain bio-samples from patient biopsy, surgery or other procedures, often with associated patient data including their medical conditions and background.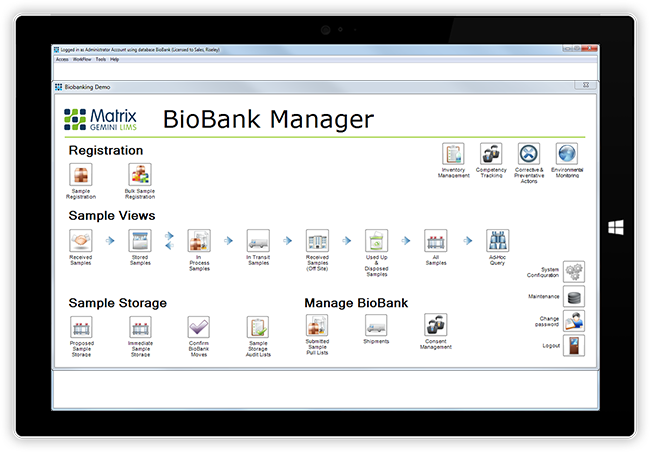 Key Biobanking Features:
Track and manage studies, associated specimens and containers
Configure workflows to fit your exact needs using a graphical interface (no software coding required)
Built-in security restricts access to authorized personnel, as required
All actions automatically recorded in an audit trail
Sample storage and movement is logged, ensuring compliance with regulatory requirements
Web browser or desktop user interfaces ensure the widest possible compatibility
Specifically designed for biobanks and biorepositories Matrix Gemini Biobank Manager provides the ideal solution to manage and track your samples. Collect, store and process specimens with ease to support IBSER Best Practice recommendations and comply with regulatory requirements. Record and manage donor/cohort information including consent data. Keep audited records of all specimens whether in process, in storage, or shipped to internal and external research projects.
The highly configurable nature of Matrix Gemini Biobank Manager makes it suitable for a wide range of studies, clinical trials, cohort collections and research projects.
Find Out More
For more detailed information see our Matrix Gemini for Biobanking brochure
Case Study
Discover the London hospital that chose Matrix Gemini for its biorepository to track sample and maximize freezer storage capacity.
Download PDF
Thank you for your interest. Please complete the form to access this document. We respect privacy and your personal details will not be shared.