Laboratory Information Management System (LIMS)
Manage your lab more effectively with a fully configurable LIMS solution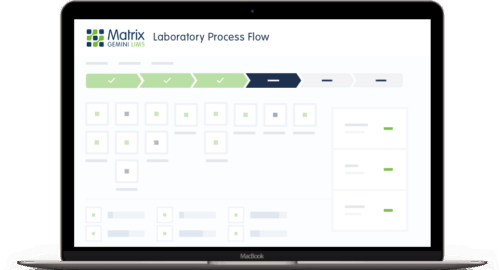 Matrix Gemini is a configurable laboratory management information management system (LIMS) that helps laboratories manage large volumes of data to strict standards, while at the same time improving efficiencies, automation and turnaround times. One of the main features is a set of configuration tools designed to efficiently create optimized, yet highly adaptable, workflows.
The flexibility of Matrix Gemini allows its use in a wide variety of laboratories, both in size and application. Read on to discover how a LIMS can help you and which solution would be best suited to fit the needs of your lab.


LIMS Built Around You
Matrix Gemini LIMS can be found in laboratories around the world, spanning sectors from Metals to Pathology and Pharmaceuticals to the Food & Beverage industry.
Because our LIMS has been used in so many different industries, we often already have a LIMS starter configuration that can be quickly adapted for you, using the Matrix Configuration Tools.
For more information on how our LIMS can help you specifically, view our dedicated LIMS industries page.
You don't need to be technical to use Matrix Gemini LIMS. The system stands apart from the competition thanks to its flexibility. No custom coding is required, which means any user can configure Matrix Gemini's workflow, screens or menus.
Benefits of LIMS
Automating repetitive tasks
Reducing the risk of errors occurring
Integrating instruments and systems
Ensuring they meet regulatory requirements
Increasing efficiencies
Get Information Quickly
It is important that you can access your information at the touch of a button. As Matrix Gemini LIMS centralizes your data, either in your own data center or in the cloud, you can easily retrieve the information you need.
You can enter and retrieve data through your web browser or via the desktop interface.
Make Better, More Informed Decisions
Matrix Gemini LIMS can help make better, more informed decisions thanks to its sophisticated real-time reporting. This helps you analyze data more quickly, allowing laboratory managers to get access to the right information at each stage of the testing process.
Grow Profitability
Our LIMS uses automation to improve data handling and help detect irregularities. What's more, they enhance data integrity, increase your laboratory capacity and improve efficiency all-round, helping make your laboratory more streamlined, more effective, and more profitable.