Laboratory Information Management System (LIMS)
Manage your lab more effectively with a fully configurable LIMS system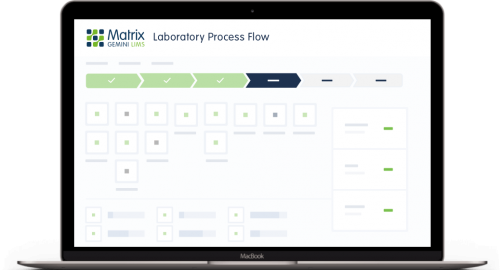 What is a LIMS?
Matrix Gemini is a configurable laboratory information management system (LIMS) that helps laboratories manage large volumes of data to strict standards, while at the same time improving efficiencies, automation and turnaround times. One of the main features of Autoscribe's LIMS software is a set of configuration tools designed to efficiently create optimized, yet highly adaptable, workflows.
The flexibility of Matrix Gemini and its various LIMS modules allows its use in a wide variety of laboratories, both in size and application. Read on to discover how a LIMS can help you and which solution would be best suited to fit the needs of your lab or get in touch for a quote.


Who uses a LIMS?
LIMS solutions are used by laboratory and support staff of all disciplines. Every lab can benefit from a LIMS; however, they're commonly found in medical, pharmaceutical, food and beverage, environment monitoring, manufacturing, and quality assurance labs.
LIMS Built Around Your Laboratory
Matrix Gemini LIMS can be found in laboratories around the world, spanning sectors from Metals to Pathology and Pharmaceuticals to the Food & Beverage industry.
Because our LIMS software has been used in so many different industries and labs, we often already have a LIMS starter configuration that can be quickly adapted for you, using the Matrix Configuration Tools.
For more information on how our LIMS can help you specifically, view our dedicated LIMS industries page.
You don't need to be technical to use Matrix Gemini LIMS. The LIMS system stands apart from the competition thanks to its flexibility. No custom coding is required, which means any user can configure Matrix Gemini's workflow, screens, or menus.
Benefits of a LIMS System
Automating repetitive laboratory administration tasks
Reducing the risk of errors occurring
Integrating instruments and systems
Ensuring they meet regulatory requirements
Increasing efficiencies through better management
Features of a Laboratory Information Management System
The main purpose of a LIMS is to improve lab efficiency and accuracy by reducing manual operations. How it does this varies based on the use case, as our software can be customised to suit near-limitless situations and industries. Our advanced LIMS software will perform a range of core functions that assist your daily work and long term projects. These functions normally include, but go far beyond:
Workflow management
Record keeping
Inventory management
Reporting
Configuration tools
Get Information Quickly - Locally or in the Cloud
It is important that you can access your laboratory information at the touch of a button. As Matrix Gemini LIMS centralizes your data, either in your own data centre or in the cloud, you can easily retrieve the information you need from your preferred LIMS database.
You can enter and retrieve data through your web browser or via the desktop interface.
LIMS Reporting to Make Better, More Informed Decisions
Matrix Gemini LIMS can help make better, more informed decisions thanks to its sophisticated real-time reporting. This helps you analyze data faster, allowing laboratory managers to access the right information at each stage of the testing process, and make swift, data-driven decisions.
Improve Profitability In your Laboratory
Our LIMS solution uses automation to improve data handling and help detect irregularities. What's more, they enhance data integrity, increase your laboratory capacity and improve efficiency, helping make your laboratory more streamlined, more effective, and more profitable.
LIMS Experts Who Understand your Industry
From Biobanking to Pathology and beyond, our unique and fully configurable LIMS laboratory software is are applicable to many industries – providing you with what you need to accurately manage large amounts of data while supporting your compliance and regulatory requirements.

With a huge number and range of implementations under our belt, our experience spans multiple industries and means that no matter what your business niche is, we have the know-how to get your LIMS solution up and running quickly and efficiently – so you can concentrate on running your laboratory.
Visit our Industries pages to find out more about how Autoscribe can support your unique needs. With the experience of markets across the UK, USA, Australia, Canada and distributors worldwide, we can make sure your LIMS Software is compliant with local regulations, kept up to date, and that you are achieving maximum benefit from your LIMS system at all times.
An Introduction to LIMS
Discover what Laboratory Information Management Systems do, how they can support your Laboratory, and find out how Autoscribe is different.

Our LIMS Solution Portfolio
Matrix Gemini
Autoscribe's Matrix Gemini LIMS is suitable for those who are looking for a fully configurable system that will meet both the immediate and future needs of your business. Our LIMS database is unique because while it offers genuine configuration capabilities, there is no custom coding required – providing you with superior flexibility, fast implementation and an interface that is both comfortable and familiar to the user.

The system is designed for any laboratory in any industry and delivers a consistent user experience whether you're working from the office or elsewhere. Learn more about Matrix Gemini LIMS here.
Matrix Express
Matrix Express LIMS is Autoscribe's 'off-the-shelf' solution, designed to suit the needs of smaller laboratories, or perfect as an introductory LIMS in larger businesses. The software shares much of the key functionality of Matrix Gemini and there are upgrade paths available to increase functionality over time. With such comprehensive functionality, Matrix Express is often used as a pilot installation, prior to making a larger investment. Learn more about Matrix Express LIMS here.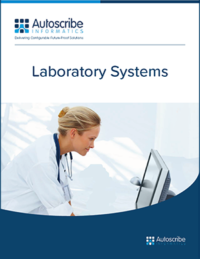 Download Our Overview Brochure
This overview Laboratory Systems brochure provides a high-level view of our solutions. It also explains who we are, why our graphically configurable management solutions are unique in the industry, and why that matters to you!
Justify a LIMS
The benefits of LIMS are widely recognised but often require a formal justification and business plan to management. This guide will help you to justify that all important investment.
Case Studies
Discover some of the companies that use LIMS and find out how Autoscribe Informatics solutions have helped customers to manage their laboratory processes more efficiently.
Looking for a LIMS?
If you have an upcoming project or would like to arrange a demo, get in touch today to find out more.