Biomass Energy Lab (BEL) is an independent global service provider offering specialized services comprised of inspection, logistics and certification of biomass and biofuel products. A new case study from Autoscribe Informatics (BEL Case Study) shows how the introduction of the Matrix Gemini LIMS (Laboratory Information Management System) has transformed the efficiency of the laboratory.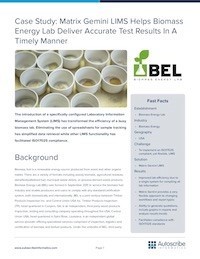 BEL, a joint venture between Timber Products Inspection Inc. (TP) and Control Union USA Inc., enables producers and users in the biomass fuel industry to comply with any standard/certification system, both domestically and internationally. Under the umbrella of BEL, third party testing, inspection, auditing, quality management consulting, QA/ QC sampling, logistics, supply chain auditing and sustainability come together to provide a complete program for the biomass industry.
Before the introduction of Matrix Gemini, all sample information and testing data were recorded in custom built Excel spreadsheets. Reports were retained as pdf files and stored in a cloud storage system. The case study shows how laboratory efficiency has been improved thanks to all laboratory information being contained in a single system. This not only simplifies sample tracking and report generation, but other Matrix functionality has facilitated ISO17025 compliance, which was a key requirement for BEL. In addition, they were able to use the costing functionality within the system to allow the automatic generation of quotations for laboratory services.
John Boother, President of Autoscribe Informatics said: "This is another excellent example of Matrix Gemini configuration tools in action. We were quickly able to use these to create a system complete with screens that were directly relevant to TP and BEL's needs. In addition, laboratory personnel from BEL attended a training course in the use of the configuration tools. Since the system went live, they have been able to adapt and develop configurations themselves as their needs have evolved."

Find the Case Study here:
Biomass Energy Lab Case Study