Laboratory Information Management System (LIMS)
Our fully configurable LIMS systems allow you to manage your lab more effectively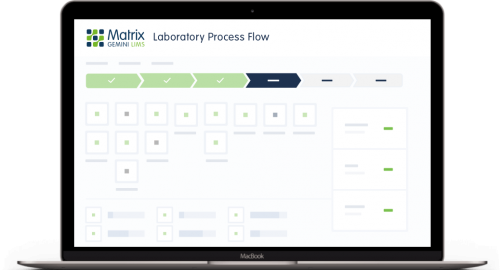 What are LIMS Systems?
Laboratory Information Management Systems (LIMS) help with large volume lab data management and adherence to strict standards, while improving efficiency and turnaround times, enabling automation and more. One of the main features that sets Autoscribe's LIMS systems apart is a set of configuration tools designed to efficiently create optimized, highly adaptable workflows. Our core LIMS products are Matrix Gemini and Matrix Express.
The flexibility of our Matrix software and its various LIMS modules enable it to be used in a wide variety of laboratories, both in size and application. Read on to discover more about LIMS, how it can help you and which solution is best suited to the needs of your lab.


Functions of a Laboratory Information Management System
If you are on a desktop computer, hover over the functions above to learn more
The main purpose of a LIMS is to improve lab efficiency, quality control and accuracy by reducing manual operations. How it does this varies based on the use case, as our software can be customised to suit near-limitless situations and industries. Our advanced LIMS systems will perform a range of core functions that assist your daily work and long term projects, enhancing all areas of laboratory work.

We Provide LIMS Software Built Around Your Laboratory
Matrix Gemini LIMS and Matrix Express LIMS can be found in laboratories around the world, spanning sectors from Metals to Pathology and Pharmaceuticals to the Food & Beverage industry. Because our LIMS software has been used in so many different industries and labs, we often already have a LIMS starter configuration that can be quickly adapted for you, using the Matrix Configuration Tools.

You don't need to be technical to use Matrix Gemini, or Matrix Express. Our new LIMS systems stand apart from the competition thanks to superior flexibility. No custom coding is required, which means any user can configure Matrix Gemini's workflow, screens, or menus to create their ideal configuration.
Watch our Introduction to Matrix LIMS Video
The Top 10 Benefits of a LIMS System
Automates repetitive laboratory administration tasks

Integrates your lab's instruments and systems intuitively
Improves the capacity and profitability of your laboratory
Increases reliability by reducing the risk of errors occurring
Enables faster, better, informed decisions from real-time reporting
Increases efficiency by streamlining process and data management
Provides information when and where you need it, locally or in the cloud
Allows access to the right information quickly at any stage of any process
Ensures all work meets regulatory requirements and current best practice
Enhances data integrity with automatic audit logging and revision control
We are LIMS Experts that Understand Your Industry
From biobanking to pathology and beyond, our unique, fully configurable LIMS laboratory software is used in many industries – providing you with what you need to accurately manage large amounts of data while supporting your compliance and regulatory requirements.

With a huge number of successful implementations under our belt, our experience spans diverse industries and means that no matter what your business niche is, we have the know-how to get your new LIMS solution up and running quickly and efficiently – so you can concentrate on running your laboratory.
Visit our industry pages to find out more about how Autoscribe can support your unique needs. We have offices across the UK, USA, Australia, and Canada and distributors worldwide, and will make sure your LIMS software solution is compliant with local regulations, kept up to date, and that you are achieving maximum benefit from your LIMS system at all times.
Select an industry to see how Matrix LIMS software is used
Our Core Matrix LIMS Products
Matrix Gemini
Autoscribe's Matrix Gemini LIMS is suitable for those who are looking for a fully configurable system that will meet both the immediate and future needs of your business. Our modern LIMS database is unique because while it offers genuine configuration capabilities, there is no custom coding required – providing you with superior flexibility, fast implementation and an interface that is both comfortable and familiar to the user.

The system is designed for any laboratory in any industry and delivers a consistent user experience whether you're working from the office or elsewhere.
Matrix Express
Matrix Express LIMS is Autoscribe's 'off-the-shelf' solution, designed to suit the needs of smaller laboratories, or perfect as an introductory LIMS in larger businesses. The software shares much of the key functionality of Matrix Gemini and there are upgrade paths available to increase functionality over time. With such comprehensive functionality, Matrix Express is often used as a pilot installation, prior to making a larger investment.

Frequently Asked Questions About New LIMS
A Laboratory Information Management System (LIMS) allows you to effectively manage the flow of samples and associated data to improve lab efficiency. A LIMS helps standardize workflows, tests and procedures while providing accurate controls of the process. Instruments may be integrated into the LIMS to automate the collection of test data, ensuring they are properly calibrated and operated by trained staff only.
The audit and revision control functions in a LIMS are key reasons why people use a LIMS and 'go paperless'. Unlike a spreadsheet changes to results are logged, as well as any changes to the test procedure, instruments and reagents used and so on.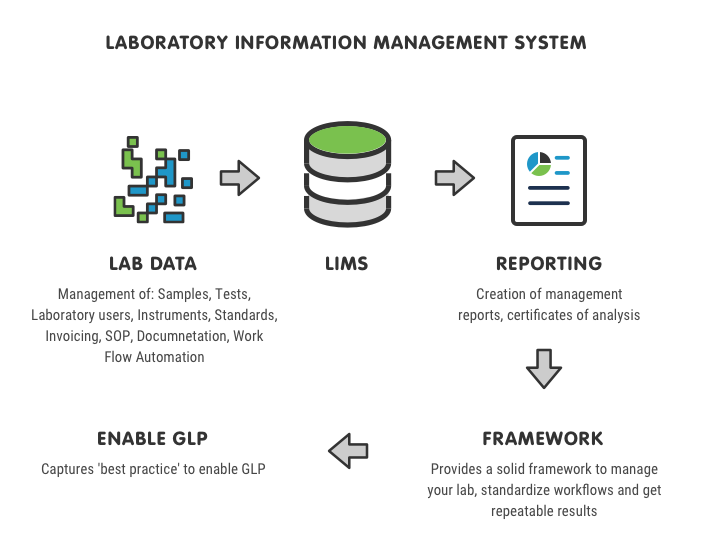 New LIMS solutions can be developed in-house or bought commercially. Autoscribe's LIMS solutions enable labs to concentrate on what they do best (the science) rather than spend resources developing bespoke solutions that can be hard to validate and maintain.
LIMS solutions are not all made equal, and choosing the right software has a huge impact on the efficiency, reliability and validity of your work. A good commercial LIMS should:
Be easily configurable to meet individual customer requirements and then adapt to the constantly evolving needs of the lab
Provide management of the entire life of the sample, which may include storage, chain of custody and other specific needs for biobanks, stability studies and so forth
Have easy to use interfaces with role-based access control to sample, test and manage information
Allow flexible interfaces to instruments and other 3rd party systems
The best LIMS solutions adapt to the way you work, help you manage the lab to efficiently provide your customers with exactly what they want (high-quality traceable results), and create an automated repeatable bulletproof process. We know this because we have spent decades developing LIMS that ensures optimal lab operation around the world.
A LIMS (or Laboratory Information Management System in its full form) helps in three main ways:

Accuracy – A LIMS helps labs produce accurate, repeatable results
Efficiency – A LIMS helps labs to automate and speed up laborious tasks
Management – A LIMS helps labs store and retrieve results quickly
LIMS software helps labs meet regulatory requirements such as GMP, FDA 21CFR Part11, and GLP by encapsulating what they do and how they do it, enabling efficient management of the lab.
What does a LIMS do?
The main purpose of a LIMS is to improve lab efficiency and accuracy by reducing manual operations. A LIMS system will perform a range of core functions. These normally include:

Workflow management
Record keeping
Inventory management
Reporting
There will be differences between LIMS systems depending on the manufacturer, such as mobile access, customization options and the level of technical support required. Work out your LIMS requirements using this guide.
Sample Management
A LIMS is commonly used in Sample Management to keep accurate records of each sample. Detailed information can be recorded when the sample is created or first arrives in the lab, which can be enhanced and expanded throughout its lifecycle. This normally includes the source of the sample, the names of the lab researchers working on it and which parts of the workflow it has passed through. It also includes information such as how it should be stored and any expiration dates. Using a LIMS to hold this information reduces the risk of a sample becoming lost, contaminated or expiring.
Inventory Management
Keeping track of inventory is an important part of day-to-day lab management. A LIMS system can fully automate this process, ensuring that supplies are ordered in advance according to requirements. This keeps the lab workflow moving and prevents delays or issues arising from a lack of stocks.
Reporting
LIMS are an essential tool to maintain accurate and timely reporting. The system can automate many daily, weekly and monthly reporting tasks. Additionally, ad-hoc instant reports can be quickly run, allowing lab workers to make informed real-time decisions. What is more, readings can be taken directly from equipment and fed directly into the system to produce reports with the highest possible accuracy.
Workflow Management
A LIMS can be used to streamline the laboratory workflow, from automatically assigning tasks to researchers to outlining where a sample needs to be passed to for its next step in the workflow. It can even be programmed to suggest instruments and equipment, based on pre-set rules and criteria.
There is further information on the benefits of LIMS on this website, or contact us and we can talk you through benefits specific for your laboratory.
At their heart, all labs have a similar process. Samples move through a typical laboratory as shown below: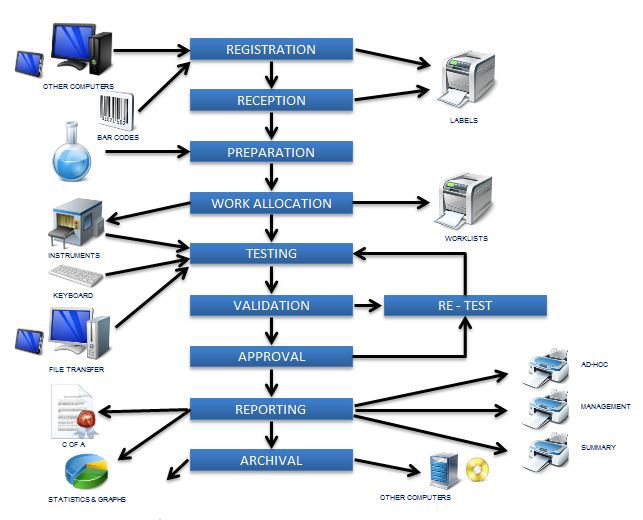 Autoscribe LIMS is a comprehensive solution that integrates all of these steps and more into an efficient, intuitive system.

Autoscribe Informatics LIMS solutions are all three and more. They encapsulate Electronic Laboratory Notebook (ELN) functionality enabling team collaboration by keeping searchable notes online.
It also incorporates all the functionality traditionally found in a Laboratory Information System (LIS), which is typically used in clinical environments for patient records, as well as the storage and chain-of-custody requirements associated with biobanking and forensic laboratory needs.
If you have any questions that aren't answered here, reach out to us by phone or by contact form, and our experts will provide answers to all your queries.

Among many benefits, a new LIMS will save you time. Time:

finding and reporting samples or data, rummaging through filing cabinets or waiting for older systems to load
creating certificates of analysis and management reports
registering samples
manually capturing data from instruments
calculating final results
Automating laboratory tasks allows you to increase efficiency and reduce the errors made. This is the main benefit that justifies investment in our software, but there's more to it than that.
Check out our guide on Justifying the Purchase of a LIMS for more information. It shows how to quantify the tangible benefits and create a cost-benefit analysis. It's for customers investing in their first system or replacing an existing system. We explain the financial costs of the time wasted with less efficient systems. We also showcase the efficiency of intuitive systems that mimic real-life laboratory flows. This enables you to justify a LIMS to your management team in financial terms they can relate to.
Some think that IT teams specify your LIMS build without input from the end users, which is incorrect. Specifying your needs without a wider understanding of your infrastructure and needs can lead to issues. We make sure to involve the right people in the process, so the software will improve day-to-day work throughout your lab(s). This can be challenging, because all labs are different, with different organisational structures. But we have over 40 years of experience, across broad industries and lab sizes, around the world. We know how to identify the best people to ask the right questions to create the ultimate solution, fast. This usually involves a dedicated project team of IT, laboratory and quality control staff from all the sites involved.
Project management is a collaborative effort. 'It takes two to tango' and nominating a project manager on your side helps keep the project moving forward. This person will be primarily responsible for testing, approval and feedback. You may also want to assign a senior manager to champion the project and help drive it to fruition. In small companies, these roles are often combined. Although we do most of the work, these positions are the key to a successful LIMS implementation.
Even in the same industry, every laboratory is different. When implementing a new LIMS you'll want to ensure it will meet your particular needs. So flexibility is king. Matrix Gemini LIMS, our flagship software, has built-in configuration tools. Every screen, menu, listing and option can be edited with a what-you-see-is-what-you-get configurator.
Autoscribe has LIMS starter systems for laboratories in the industries we serve. At the time of writing, this includes, but is not limited to, solutions for biobanks, contract labs, food and beverage, pharmaceutical, manufacturing, veterinary and water. These systems come with some pre-configured functionality specific to the industry. These are the most common use cases, but we supply software to other industries too. See our industry pages for more information, which can be found in the website's main menu.
For smaller laboratories, we offer Matrix Express, a ready-to-use entry-level LIMS. Express covers all your essential needs and can expand as your lab grows and requirements expand.
Matrix Tracker is our tracking-only solution for labs that only need to track samples. It excludes other features of our more advanced solutions, such as testing and recording analytical results.
Managing sample data and associated metadata has never been easier than with our range of LIMS solutions. We have a solution suited to every lab, and if you have any questions about which is best for you, contact us. Our friendly experts are here to help.
This is in reference to an unusual phone call our United States office received.
Lim Garden is the name of both a restaurant and a woodland, both of which are unrelated to the LIMS we offer.
We provide world-class laboratory software, so if you are looking for that, you are in the right place.
We often laugh about the time we were asked to deliver sweet and sour chicken, so we thought we'd share this with you.
We may develop sophisticated software for serious situations, but at our heart, we are a close-knit family of friends.
If you would like to discuss your project with our team, or if you have any questions, please get in touch.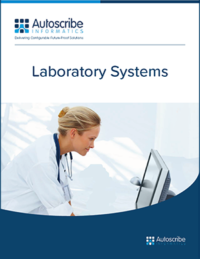 Our Comprehensive Brochure
Autoscribe's Laboratory Systems brochure provides a high-level overview of our solutions. It also explains who we are, why our graphically configurable management solutions are unique in the industry, and why that matters to you!
Contact details for LIMS - UK Head Office
It looks like our head offices in the UK are the best for you to contact, if this doesn't sound right, please see details of our regional offices here.
Autoscribe Limited, Venus House, Calleva Park, Aldermaston
Reading, Berkshire, RG7 8DA, UK
Tel: +44 (0)118 984 0610
Email: matrix@autoscribe.co.uk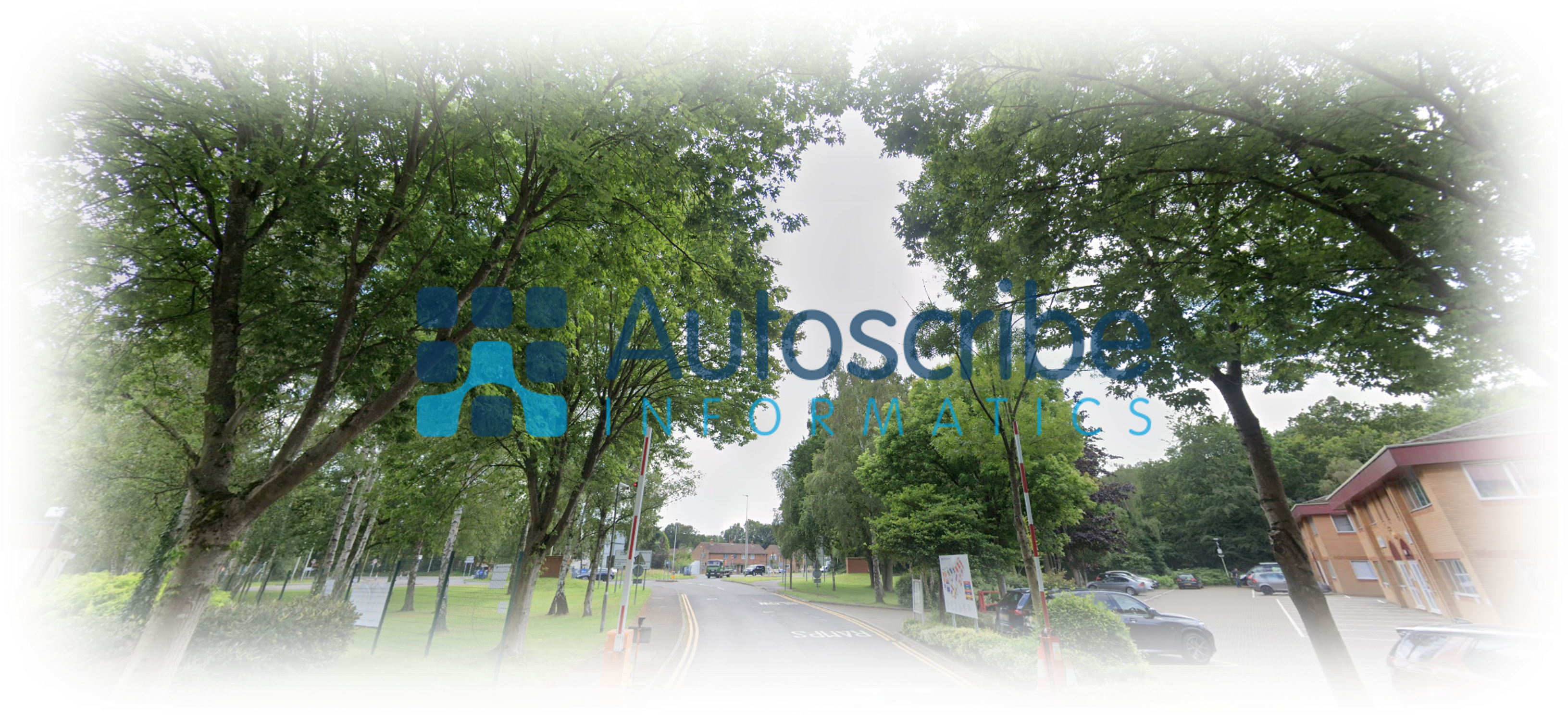 Justify LIMS Guide
Formal justification for management
Read Success Stories
Discover the impact of our software
Looking for a LIMS?
If you have an upcoming project or would like to arrange a demo, get in touch today to find out more