APIN Public Health Initiatives Ltd/Gte will be using the Matrix Gemini Laboratory Information Management System (LIMS) from Autoscribe Informatics to manage the collection and testing of blood samples at 4 different sites in Nigeria. APIN (AIDS Prevention Initiative in Nigeria) is a leading non-government organization in Nigeria in the provision of prevention, care and treatment services to patients with HIV/AIDS and other diseases of public health significance.
The testing of blood samples is the fundamental method for the diagnosis of HIV/AIDS and for monitoring the effectiveness of ART (Anti Retroviral Therapy) treatments. The Matrix Gemini LIMS will track patient blood samples from registration through preparing and testing of samples to approval and reporting of results. The system will be used at the ART Laboratory, College of Medicine University of Lagos, the ART Laboratory, Lagos State University Teaching Hospital, the Human Virology Laboratory, Nigerian Institute of Medical Research and the HIV Laboratory, Department of Virology, College of Medicine, University of Ibadan.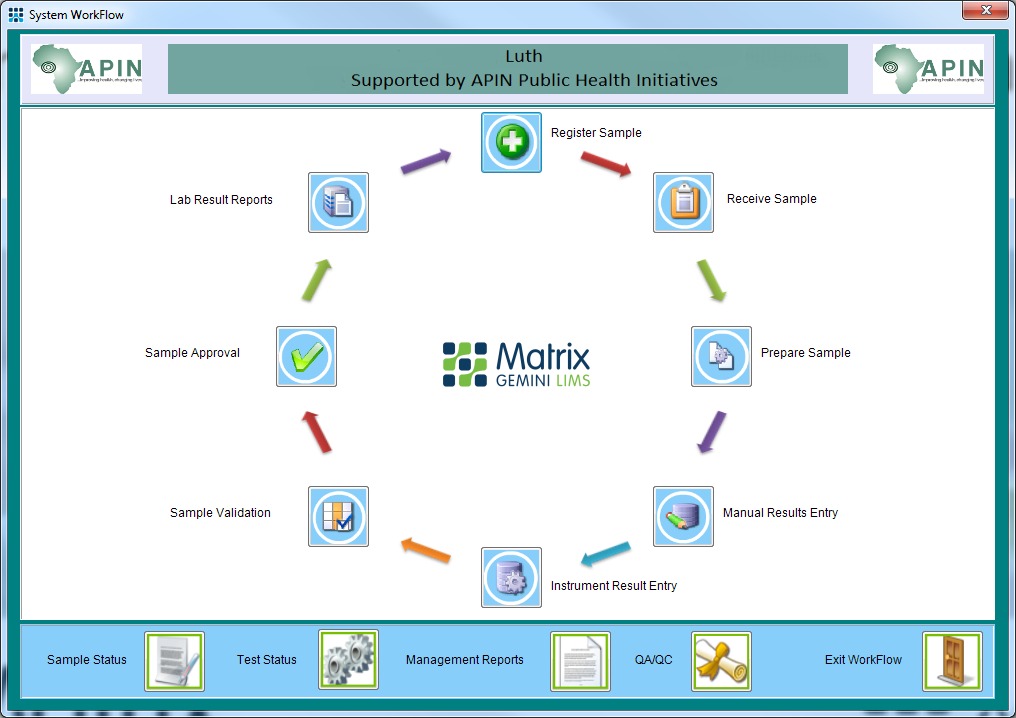 APIN Workflow Screen

Dr. Prosper Okonkwo, APIN CEO, commented: "The Laboratory Services Department of APIN supports and manages the provision of state-of-the-art laboratory services for HIV and TB treatment at all tiers of healthcare facilities in Nigeria. Laboratory services at all the comprehensive treatment facilities are supported with the capability to perform a full range of screening, diagnostic, treatment and monitoring tests for HIV/TB using manual, semi-automated, fully automated and hi-tech diagnostic systems. The introduction of the Matrix Gemini LIMS will help APIN to build a complete picture of our patients and provide a powerful research tool in order to help improve public health. It will also help strengthen laboratory management towards accreditation using Stepwise Laboratory Quality Improvement Process Towards Accreditation (SLIPTA) program strategies".
Matrix Gemini's built-in configuration tools allow the system to be easily set up to meet APIN's exact needs. APIN is presently testing the starter system and is working closely with Autoscribe to advise any final changes to the configuration that may be required. The flexibility of these tools also means that the system can be further changed in the future, if APIN's requirements change. This approach not only future-proofs the system, but also reduces support costs.
The LIMS allows the automation of repetitive tasks. Instruments can be directly linked to Matrix, providing direct input of results, improving laboratory efficiency and minimizing data transcription errors, thereby giving enhanced data integrity.