Booth H4, Lab Innovations 2017 NEC, Birmingham, UK, 1 - 2 November 2017
Visitors to Booth H4 will be able to see how the built-in configuration tools in Autoscribe Informatics' Matrix Gemini LIMS (Laboratory Information Management System) allow the software to be readily configured for any type of laboratory. These unique graphical configuration capabilities allow management screens and workflows to be tailored to the specific laboratory needs, without any custom coding or scripting or modification of the software itself. This ensures an exact fit to customer requirements both now and as needs change over time, providing solutions that are easy to use and have a low total cost of ownership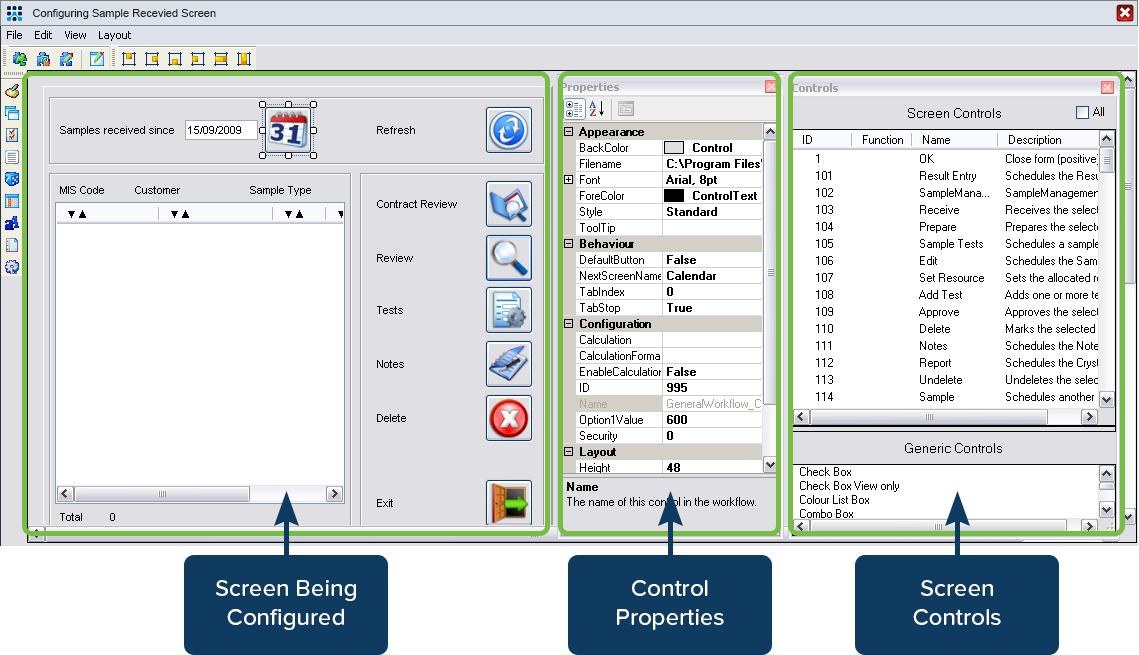 Typical Configuration Screen Tools provide Ultimate Flexibility
The configuration tools use an intuitive visual workflow screen editor that shows the screen being configured along with all the options and control properties associated with that screen. This interactive user interface utilizes visual drag and drop and point and click methods to add fields, list boxes etc, meaning that absolutely no programming skills are required. An unlimited number of screens can be created, modified and linked together. In this way, the LIMS can be designed quickly to represent user requirements in terms of workflows, screen designs, menu designs, terminology, report designs and much more.
This flexible approach brings extraordinary versatility. Firstly it makes it possible to address the requirements of individual sites within global organizations since Matrix Gemini allows different user experiences at each site to be optimized to fit local requirements. Importantly the core-code of the system is identical for all sites and may be hosted on one or more servers depending on the architecture required. In addition, the same principles can be applied for different departments within any organization. For example within a pharmaceutical company, Matrix Gemini could be configured to suit QC/QA, R&D, clinical trials, biobanks, drug metabolism, stability study and pre-clinical pathology departments.
Autoscribe Informatics will also be showcasing its two new capabilities for remote usage of Matrix Gemini LIMS at the Show. The Matrix Gemini Field Analytics System extends the use of the LIMS to the field, allowing data to be recorded off-line and uploaded to the LIMS when an internet connection can be re-established. The Matrix Gemini Web also allows third parties access to relevant data, reports and metrics produced in Matrix Gemini.
Lab Innovations
Lab Innovations is a large UK Laboratory Exhibition being held in Birmingham on the 1-2 November 2017. For more information on Lab Innovations and to register please click on the link below:
More on Lab Innovations