A new case study has been released describing how CaroMont Health is using the Matrix Mortuary Management System from Autoscribe Informatics to manage its hospital morgue. The system is now in daily use at CaroMont Regional Medical Center.
The case study can be downloaded from:
Morgue-at-caromont-health-adopts-matrix-mortuary-management-system

Matrix Mortuary Manager has eliminated the manual, paper centric, process for managing the deceased through the mortuary, replacing it with an easy-to-use electronic system. Integration with the CaroMont Health Medical Center's EPIC Electronic Medical Records (EMR) system enables patient records to be seamlessly transferred to the morgue, avoiding transcription errors. Enhanced security, using barcode labeling, allows an extra layer of identification checks to be performed before bodies are moved or released. The new solution has also enabled considerable efficiency improvements and resource cost savings.
"Autoscribe Informatics listened to our requirements and provided an excellent solution to meet our current needs, and for planned future expansion in the morgue", noted the project manager at CaroMont Health. "The new mortuary management system reduces individual processing time from 2-2.5 hours to 15-20 minutes, providing efficiency improvements and significant cost savings in the department."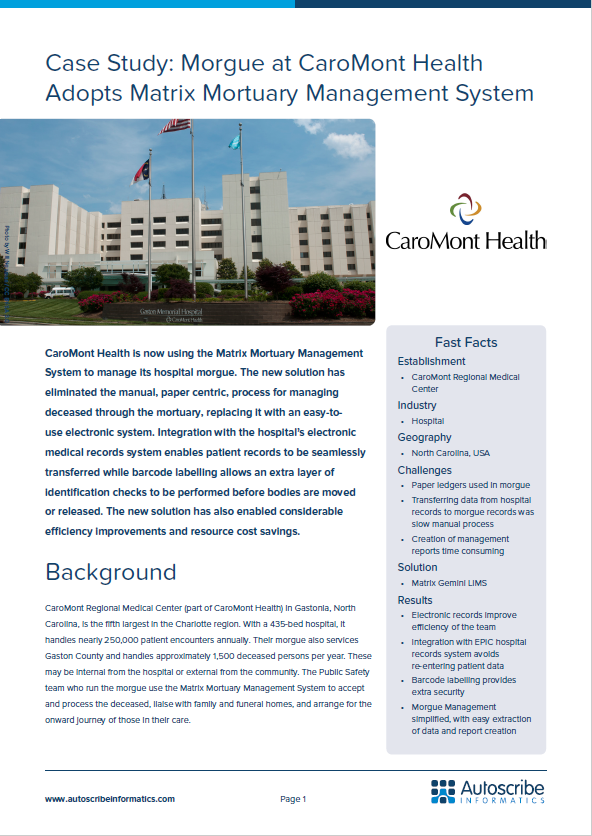 CaroMont Regional Medical Center (part of CaroMont Health) in Gastonia, North Carolina is the fifth largest in the Charlotte region. With a 435-bed hospital, it handles nearly 250,000 patient encounters annually. Their morgue also services Gaston County and handles approximately 1,500 deceased persons per year. These may be internal from the hospital or external from the community. The Public Safety team who run the morgue use the Matrix Mortuary Management System to accept and process the deceased, liaise with family and funeral homes, and arrange for the onward journey of those in their care.

"As an unfortunate consequence of the Covid-19 pandemic we have seen an increase in interest for mortuary management solutions from morgues around the world. Our fastest deployment of the Matrix Mortuary Management System has been in less than a day, proving that our ready to go starter systems really can be very quickly installed, when needed, anywhere in the world", said Tim Daniels, Marketing Manager at Autoscribe Informatics. "Mortuary Manager is another example of the highly configurable nature of Matrix Gemini LIMS, making it suitable for multiple markets. We have clients in medical, pharmaceutical, manufacturing, environmental, and veterinary industries, among others. The key to the success of Matrix Gemini LIMS is that they all use the same software, using the built-in graphical configuration tools to provide the perfect workflow that fits the needs of each client."