Birmingham, UK, 25-26 May 2022
---
Autoscribe Informatics will be showing their latest Regulated Manufacturing LIMS (Laboratory Information Management System) at the Manufacturing Chemist LIVE conference and exhibition. The Manufacturing system is based on the proven Matrix Gemini LIMS and is ideal for all manufacturing organizations including those in highly regulated industries such as pharmaceutical, medical device and food production.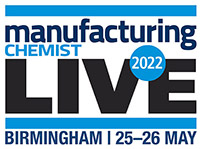 Manufacturing Chemist Live is a two-day UK event for all those involved in pharmaceutical industry and covers all aspects of the drug supply chain.

For those embarking on a new LIMS project it is the ideal opportunity to meet us and gather the information you need to move forward. You can talk to Autoscribe staff on stand to discover why Autoscribe's Matrix Gemini LIMS is such a popular choice with laboratory organizations.
Matrix Gemini LIMS is known for its configurability. Unique among LIMS vendors every customer LIMS is based on the same software with configurable workflows and screen designs to suit any industry. The graphical configuration tools allow controlled changes to be made to the system without the need for software coding ensuring that the system can be changed to suit changing business requirements without compromising system support or upgradeability of the core code.
Regulated Manufacturing LIMS
The Regulated Manufacturing LIMS is one of several industry specific solutions offered by Autoscribe. Regulated manufacturing environments require strict traceability of incoming raw ingredients and intermediates that go into the final products. Consequently, the regulated manufacturing LIMS features recipe and batch management to provide full traceability of the components of any given batch.
Other key functions integrated into the manufacturing flow include competency management to ensure that only trained and authorized staff can enter data into the LIMS, an instrument calibration and maintenance system (ICMS) that can prevent the use of out-of-calibration and out-of-maintenance instruments, and a product grading module to check product quality against multiple specifications. Product grading ensures that customers receive a product that meets their identified requirements. Customer or market specific certificates of analysis can be produced based on these specifications.
Runsheet functionality is also built-in allowing QC tests such as blanks, spikes, and duplicates to be pre-defined within each runsheet to ensure quality control is standard in all testing. Environmental monitoring and testing of the production facilities can be defined, and corrective and preventive actions (CAPA) can be created and managed.
"We are excited to be exhibiting at this year's Manufacturing Chemist LIVE event", said Tim Daniels, Marketing Manager at Autoscribe. "It allows us to talk with pharmaceutical manufacturers as well as the broader drug delivery supply chain to spread the message about the unique benefits of Matrix Gemini LIMS. It is also a chance to catch up with our loyal customers within the UK."