Tim Daniels revisits the high points of Lab Innovations 2021
---
Lab Innovations is the UK's annual laboratory conference. Like the PITTCON conference in the US it attracts a wide audience from all laboratory sectors. Indeed, the last in-person event I attended with Autoscribe was Pittcon 2020, roughly 18 months previously. It was great to be part of a laboratory industry event again, and judging by the attendance, many other industry colleagues felt the same way. Because Matrix Gemini LIMS has such a friendly user interface and is easy to configure to your exact needs its always great to show people how effortless it is to understand and use in your laboratory.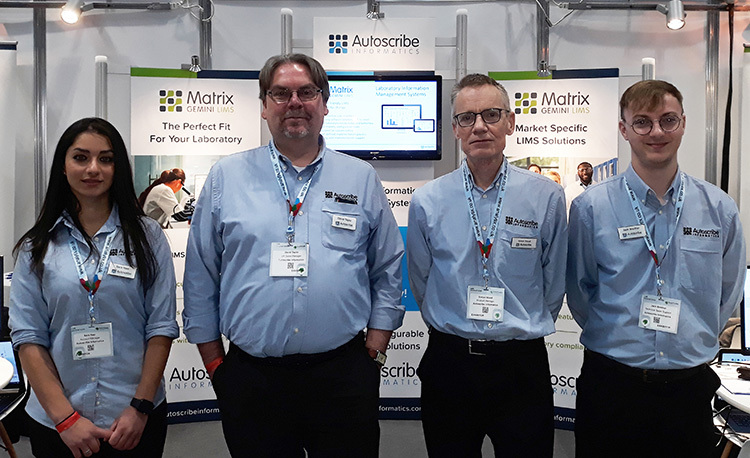 Pictured: Sara Nasi, David Taylor, Simon Wood, Jack Boother
The two-day show seemed to whizz by; discussing LIMS needs with potential new customers, catching up with current Matrix Gemini users who popped by to say hello, and meeting our fellow LIMS providers who we had not seen for two years. This was the first laboratory industry event in the UK since the government eased Covid restrictions allowing large gatherings like this to take place again. Vaccine passports (or equivalent) had to be shown by all participants, but this was no inconvenience and caused no delays.
This year we were demonstrating Matrix Gemini v6 to visitors and current customers. V6.0 includes multiple enhancements including an updated and improved calculation engine and additional multi-language support. Multiple technical developments are also incorporated including support for 64-bit computing to take maximum advantage of current server technology. An all-new Matrix V6 Administrator interface makes managing users easier than ever.
Our range of starter systems were available for demonstration, from Matrix Express, our 'out-of-the-box' entry level solution for smaller start-up laboratories, to our popular Matrix Covid LIMS for labs supporting Covid-19 testing and our Pharmaceutical Manufacturing LIMS with batch and recipe management.
The star of the show, as always, were the LIMS configuration tools themselves. A Low Code Development Platform (LCDP), Matrix Configuration tools allow all the screens and workflows to be configured using a graphical editor. This enables functionality to be quickly adapted to suit the exact needs of end users without the need for software coding. This is a truly unique feature in the LIMS industry and differentiates Matrix Gemini LIMS from all LIMS competitors.
This year the Lab Innovations exhibition was combined with the Advanced Engineering show, which covered modern manufacturing techniques. Robotic equipment and composite material manufacturers were two areas that caught my eye, the practical application of robotics being of particular interest as laboratories also push for greater efficiency and automation.
The next major exhibition that Autoscribe will be involved in will be Pittcon 2022 in Atlanta, GA. We are looking forward to meeting potential customers from around the USA and the rest of the world, as well as saying hello again to many current Matrix Gemini LIMS users.