Busy laboratory managers are always pleased when something comes along to help streamline the workload of the laboratory, speed up sample throughput and generally improve efficiency. The Bulk Sample Registration Module for the Matrix Gemini LIMS provides huge time-saving benefits for customers dealing with large numbers of samples or where there is a variety of sample types being registered. This can be of particular benefit for contract laboratories which may need to carry out regular analyses of samples from many different disciplines such as food, pharmaceutical, medical etc. The Matrix Bulk Sample Registration Module provides a grid with spreadsheet-like data-entry functionality for registering large numbers of samples. It allows entry of the sample data to be done in advance of the registration operation, and optionally saved as a template for future use for laboratories that receive regular repeat batches of samples for analysis on a routine basis.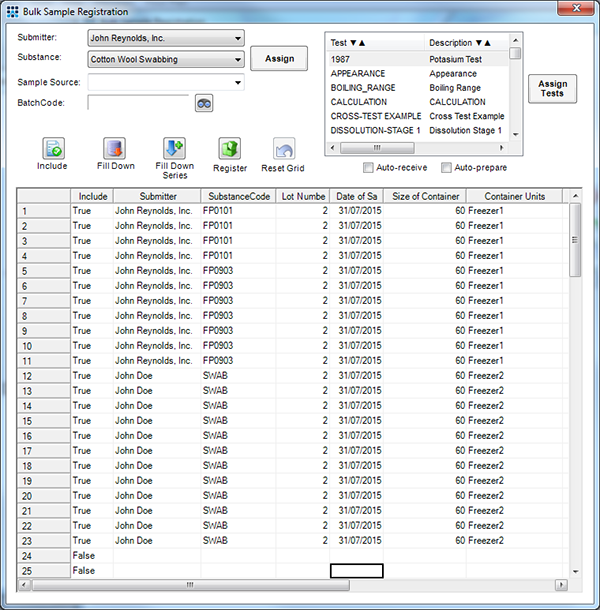 Example Bulk Sample Registration Screen
Flexible set-up for individual laboratory needs
The Bulk Sample Registration grid offers copy, paste and fill functions that allow easy registration of large numbers of samples and provide great flexibility to accommodate a wide range of sample types. For example, the system could be set up to accept, say, 10 similar samples followed by, say, 20 individual samples. The columns in the grid may be configured to suit specific customer requirements but typically they will include Sample Number (automatically or manually allocated), Submitter, Substance/Product and Tests. A test or group of tests can be easily added to a particular Bulk Sample Registration sample row as many times as needed. A fill down feature allows fast data entry without the need to enter the same data multiple times.
A fill down series is also available where specified numeric cells are incremented according to a specified pattern for each row in the grid. Other supporting data (e.g. target completion date) can be specified in columns before the registration takes place.
The completed grid can be used as a template. Copy and paste functionality is supported, so if sample details are provided in Excel or a compatible spreadsheet format they can be directly copied and pasted into the Bulk Sample Registration grid.
Automatic registration
Data can be automatically registered from the grid using a single button. Before registration takes place, the system carries out a number of checks. These include checking the presence of data in each required column for each sample; that any batch code used is present in the database; that sample codes are assigned to sample rows and many more.
The immense flexibility of Bulk Sample Registration removes the drudgery and speeds up the registering of daily sample runs, saving time and reducing errors. The module is available as an add on to our standard Matrix Gemini LIMS product. Find out more about Additional Matrix Modules here.