Ensuring Sterile/Hygienic Environments
---
Ensuring a clean (germ free) environment is a pre-requisite in a broad range of industries, from food and drink to pharmaceutical, medical devices, cosmetics and healthcare. In hospitals for instance it is now very common for regular swab testing to occur in hospital operating rooms and wards to provide an early warning of superbugs (like MRSA and C.Diff).
The recent tightening of legislation in the food industry (Food Standards Modernization Act – FSMA) has also put a new emphasis on prevention regimes. Providing an early warning of increased microbial contamination in production and storage areas allows corrective action plans to be put in place well before any hygiene issues start to affect product quality and therefore profits.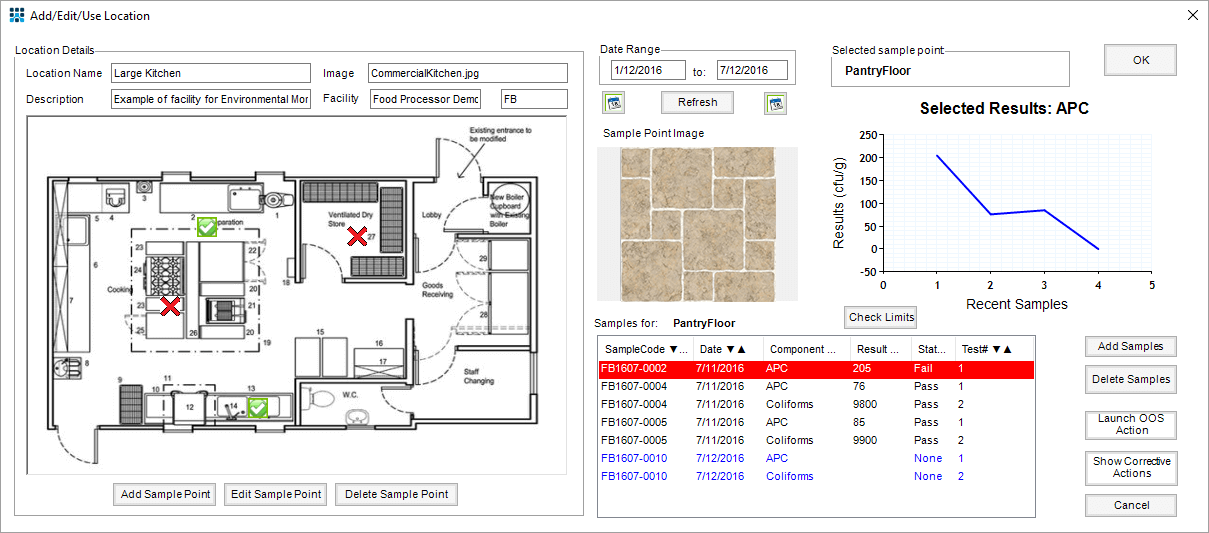 Example screen showing sample location, test results, result trends
and links to Out-of-Specification Actions and Corrective Action logs.

Sterile conditions are also necessary in the manufacture of medical devices, pharmaceutical products and cosmetics. Production areas are continuously monitored using settle plates in key locations, for instance, which are regularly replaced and analyzed in the QA lab for microbial contamination.
How the Matrix Gemini Environmental Monitoring Module can help
The Matrix Gemini Environmental Monitoring module, from Autoscribe Informatics, provides a graphical view of sample location, linking this to the samples taken over time and the test results of those samples. Test results may be shown graphically to instantly identify trends at each sample point and deviations from the norm.
Whether the sites being monitored are local or remote the appropriate floorplan representation, associated test results and CAPA actions can be quickly highlighted. If the production team send on the samples to a 3rd party QA laboratory for analysis then the production team can log the samples while the remote QA laboratory can enter the test results to suit. CAPA actions, if any, will invariably be led by the production team (often with expert input from remote QA laboratory personnel).
Video Demo: The Environmental Monitoring (Sampling Management) Module

Sampling frequencies may be automatically adapted, depending on previous test results. For instance a failing sample may trigger daily repeat testing until microbial counts reduce, while under normal circumstances a test frequency of every 7 days would suffice. Automating the daily regime or test sample collection is a key part of the Environmental Monitoring module, allowing less experienced, and therefore less expensive, staff to operate the daily regime in the knowledge that it is still highly controlled and incorporates the fall back mechanisms needed to ensure (and prove through the audit function) sanitary conditions.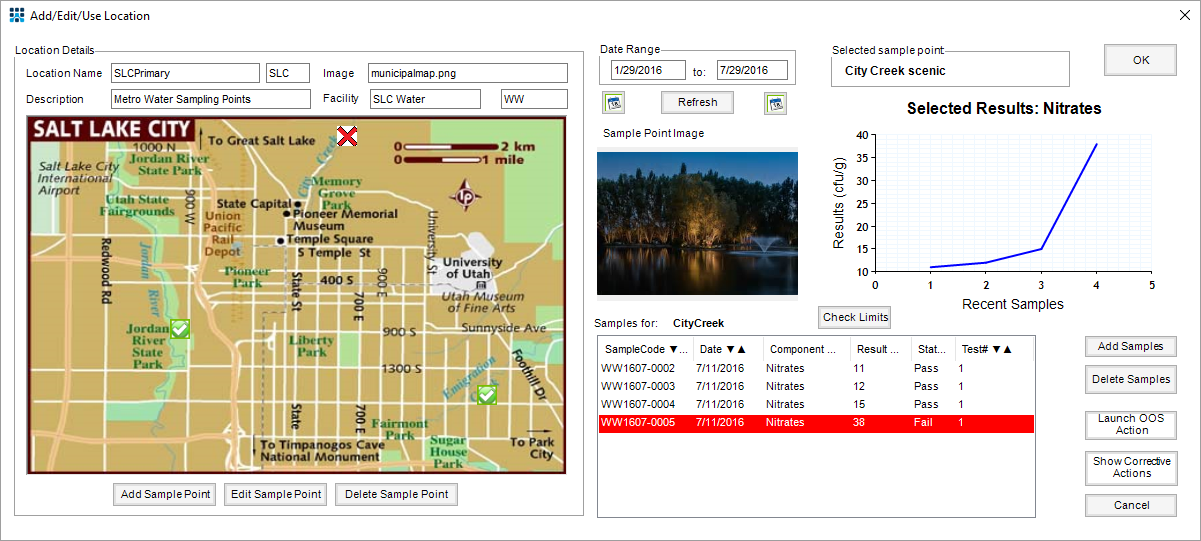 Example screen showing Metropolitan Water District locations, linked to test results
(The EM Module has uses far beyond the food & beverage sector)

Where corrective actions are deemed necessary the corrective and preventive (CAPA) actions may be logged directly in the system against the appropriate test results. This enables an instant recall of both the issues occurring and the associated actions taken from within a single environment. In addition to all the usual LIMS functions the Environmental Microbiology Monitoring module can also create reports showing the test history of any location (or group of locations). Linking test locations, results and CAPA actions all together in one graphical environment provides easy access to all audit information in one logical place. This streamlines quality assurance tasks and provides a complete framework for legislative needs in these industries.
Download the Matrix Gemini Environmental Monitoring Module Brochure.