Stability studies are used to assess the shelf life of a product by storing samples under controlled environmental conditions for defined lengths of time prior to testing. Stability studies may be accelerated or real time; which of these is appropriate depends on the product under test or applicable regulatory requirements.. Managing multiple studies can be complex and time consuming, however the Matrix Gemini Stability System simplifies the whole study management process. As one of the most complete and mature study management systems on the market, Matrix Gemini Stability continues to gain traction and market share. Its highly flexible graphical configuration tools make it easy to configure the system to each customer's exact needs, while providing the flexibility for change as the customer's requirements evolve yet at the same time maintaining the underlying stability functionality. Not only that, a new stability analytics capability has been introduced which includes a fully integrated charting module to provide early indications of shelf-life performance for each product, or batch of product, under test.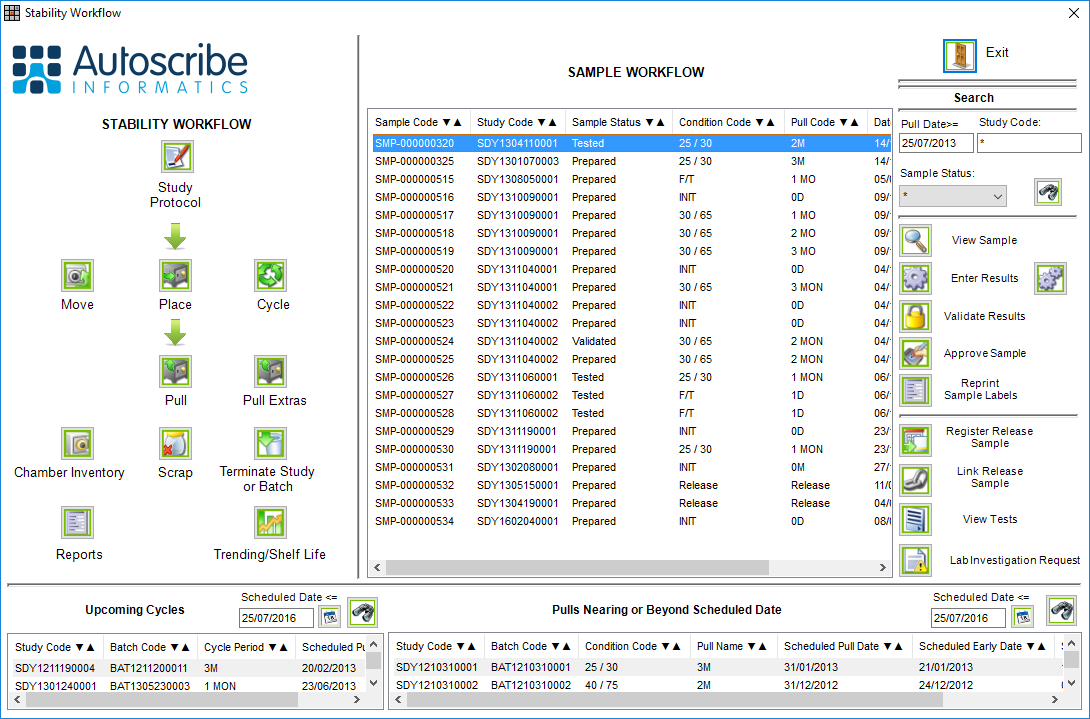 Typical Stability Workflow screen

Setting up studies
Stability testing requires the management of significant amounts of data from a variety of sources. Right from the automatic generation of 1D and 2D bar-coded labels, Matrix Gemini Stability optimizes sample storage and management to avoid shortages and eliminate waste. Samples to be pulled are automatically registered with relevant tests and test limits assigned. Users are automatically alerted that the samples need to be removed from the storage locations and tested. This increases laboratory efficiency, and of course the system also allows users to manage the stability chambers and track their contents, while also providing the necessary security and audit trail to comply with regulatory requirements such as GMP and 21CFR Part 11.
Comprehensive capabilities
The new stability analytics module further extends Matrix Gemini Stability's functionality by closing the loop from set up and management of stability studies to the full reporting of the outcomes. Matrix Gemini manages the full life cycle of stability studies and provides the support required to meet applicable regulations. It provides an integrated system for analyzing stability results that often involve multiple batches, users, and data transfers. The statistics and charting capabilities include ANCOVA statistics, tests for poolability, out of trend detection and residuals analysis. Predictions can be made using pooled data, pooled slope and worst case.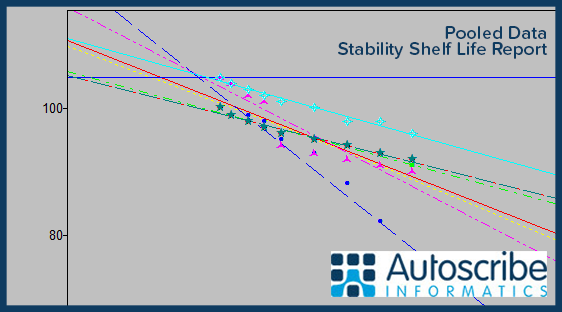 Contract stability testing
Matrix Gemini Stability isn't just restricted to in-house operations. The ability to create quotes and generate sophisticated reports around chamber capacity makes it ideally suited for use by contract stability operations. Contract stability testing Companies use Matrix Gemini Stability to manage samples from customers who outsource some or all of their stability study function. They provide the storage facilities, including environmental chambers to accelerate shelf-life degradation, take in the samples, store them, manage when samples are pulled and manage the shipping of those samples back to the customers for testing as required.
Stability studies are used across a wide range of industries from chemicals and paint to food and pharmaceuticals to ensure the products we buy perform as expected and are safe to use. As such they form an increasingly important quality assurance function in the modern supply chain providing confirmation of regulatory requirements and consumer confidence in the product. In a world where imitation and/or substandard products often masquerade as the real thing it is unsurprising that tighter regulation and increasing quality checks continue to drive growth in the stability study industry. This is a trend we expect to continue.