In today's scientific/technical business climate, agility is becoming more and more important – the ability to respond quickly to changes and adjust the way you run your business. A majority of the companies that were on the Fortune 1000 list a few years ago have disappeared because they were unable to adapt. So why would any company choose to invest in a LIMS that locked them into a certain way of running their business?
In the past many labs had their instruments off-line to prevent software updates that could disrupt the running of the instrument. Now more are interacting with their lab over the web, and a few are beginning to make greater use of mobile devices. Will your LIMS change with you, or force you to stay with a less-than-optimal operation while you develop the budget for investing in a new one?
Easy Configuration is Key
The defining feature of Matrix Gemini is the freedom it provides to design screens, menus, and workflows around the specific needs of its users, but without changing the core code. Different groups within the same organization could have different workflows, and changes can easily be made as circumstances change. The following images from different configurations illustrate just how flexible Matrix Gemini is to deliver an exact fit.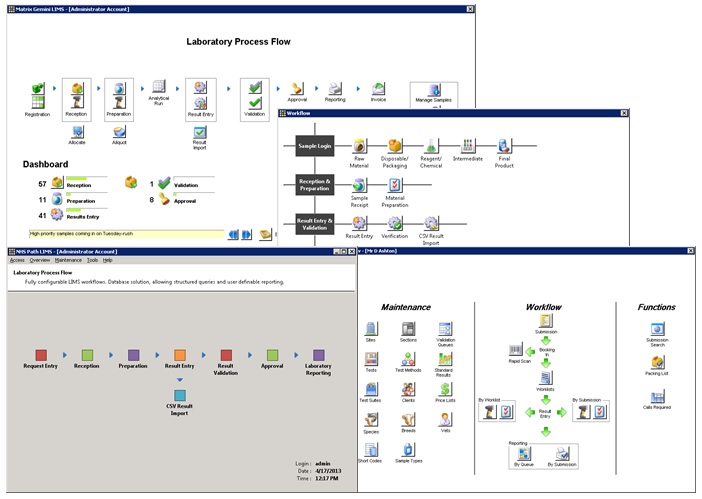 While reviewing the many LIMS options offered in today's market you may hear about industry specific LIMS that are pre-configured and validated "out of the box." The supposed benefit of such a pre-configured LIMS is time and expense saved in system validation. These industry-specific configurations can be helpful for some, but many will be forced to modify their current processes to match the boxed design since the time and expense required to modify these "out of the box" validated LIMS can be substantial. This situation is especially applicable should the requirements change down the road. If you are considering one of these systems, be sure to inquire about the cost of changes and time necessary to meet the ongoing needs of your organization. In many cases, Matrix Gemini implementation AND validation takes significantly less time and expense than modifying the pre-configured design of other systems.
Pittcon Configuration Challenge
At Pittcon this year we gave attendees the opportunity participate in a Configuration Challenge. We encouraged visitors to bring examples of their sample registration process to our booth so we could demonstrate just how quick and easy it is to create a sample registration or submission screen specifically relevant to their needs. Our "out of the box" LIMS was used as a starting point and then we used the Matrix Configuration Tools to make changes to the registration screen based on their process. Seeing a 'real life' configuration process carried out on the exhibition booth was a very powerful indicator of the versatility that Matrix Gemini has to offer without "boxing you in!"
The following is a quote from a company that challenged us at Pittcon. "We were impressed with the ease of configuring a sample login screen using the built in configuration tool. The configuration tool in our next LIMS must be comprehensive and user friendly; your demonstration at Pittcon helped us to better understand Matrix Gemini's capabilities."