Laboratory testing forms an essential part of the quality management process in a brewery. However, many management systems used in breweries are unable to provide the functionality needed to accommodate the processes and procedures associated with testing of this type. A Brewery LIMS (Laboratory Information Management System) solution provides the framework to drive quality checks and ensure compliance.
Brewery LIMS Covers All Key Stages
Laboratory testing usually follows a consistent format:
Take a sample
Register it in the system
Carry out a test(s)
Check that the test results lie within the permitted limits
Validation of results by a supervisor
Report the results
Release approved batches to the next production stage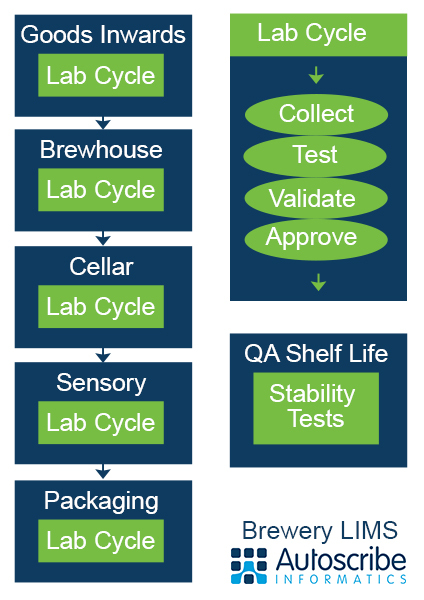 Typical lab testing flow through a Brewery
The nature of the specific tests undertaken at each stage of production are likely to be very different and so the LIMS needs the flexibility to be able to accommodate this. There are five key stages of production where laboratory or equivalent testing is used:
Goods in – testing of raw materials
Brewhouse – may require numerous testing stages during the brewing process itself
Cellar – testing of the beer when it has been matured and filtered and possibly shelf life testing
Sensory – sensory tests such as taste, smell and appearance must also be undertaken and the results recorded
Packaging – making sure that product labeling and packaging is correct
For many breweries, especially micro and craft breweries, laboratory testing is outsourced to contract laboratories, yet there is still a need to incorporate the results reported back into an overall quality management system. However stricter regulatory requirements throughout the food and beverage industry are encouraging breweries to bring laboratory testing in house. With this comes the need for a management system that can handle the specific requirements found in a laboratory environment.
In The Lab
Quality testing involves traceability, scheduling, regulatory compliance and reporting. The Brewery LIMS provides this capability, capturing the workflows, managing the data and providing a repeatable means to analyze and extract the resulting information. More importantly however is the flexibility that Brewery LIMS provides through its configuration tools to adapt the system to match exactly the requirements of an individual brewery. The Matrix Gemini Brewery LIMS provides transparency for the laboratory functions and delivers a ready means of proving regulatory compliance. However it doesn't stop there. Although Brewery LIMS is configured for laboratory data management requirements, it can be further extended to handle a range of more general quality functionality such as invoicing, inventory control, asset management, customer feedback and corrective and preventive action (CAPA) management.
For more information on Brewery LIMS please contact us.