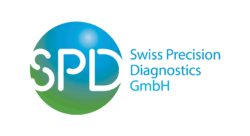 ---
Driving an integrated approach to laboratory management Swiss Precision Diagnostics (SPD) is using Matrix Gemini LIMS to manage volunteer sample collection, laboratory testing and their clinical biobank. The new system streamlines laboratory operating processes and will ensure data is easier to find and use.
Swiss Precision Diagnostics (SPD) is a leading supplier of home pregnancy and fertility/ ovulation tests. Formed in 2007 SPD is a joint venture between Procter & Gamble (P&G) and Abbott Diagnostics. It employs around 200 people based in its headquarters in Geneva, Switzerland and at the Clearblue Innovation Centre in Bedford, UK. The Company follows ISO 13485 and FDA 21 CFR Part 820 quality management systems for medical devices to drive best practice.
In-house management system would not meet their long term needs

Easy to follow workflow encompasses all their needs
MIDAS connects external instrumentation to the LIMS
Study data more easily accessed
MIDAS seamlessly connects our analytical instruments to the LIMS avoiding the misreporting of results through typographical errors
---
The Clearblue® range of pregnancy test products works by measuring the hormone human Chorionic Gonadotrophin (hCG) found in urine. The tests are over 99% accurate at detecting pregnancy from the day of the expected period. The addition of a Weeks Indicator on the Clearblue Pregnancy Test tells a woman in words if she's 'Pregnant' or 'Not Pregnant', it also tells her how many weeks since she conceived: 1-2, 2-3 or more than 3 weeks.