The Matrix Gemini Stability study manager system from Autoscribe Informatics has been used to meet the needs of R&D and QC laboratories within the pharmaceutical industry (and other industries) for the management of samples in the laboratories to meet the FDA requirements for regulated stability testing.
Background
Companies manufacturing healthcare products will have laboratories offering a range of analytical capabilities. These frequently provide support to the R&D team during product development and manufacturing once the product is in production. A significant amount of testing, including stability testing is required as part of the process of bringing products to market.

Challenges
Such laboratories require a structure and program to share data and sample management, particularly with respect to FDA (U S Food and Drug Administration) compliance for both GLP (Good Laboratory Practice) and GMP (Good Manufacturing Practice). Electronic systems can be put in place to satisfy GLP 21CFR 58, GMP 210 and GMP 211. GLP 21CFR 58 prescribes good laboratory practices for conducting nonclinical laboratory studies that support or are intended to support applications for research or marketing permits for a variety of products regulated by the FDA. 21CFR 210 covers GMP for manufacturing, processing, packing or holding of drugs; while 21CFR 211 covers GMP for finished pharmaceuticals. The system should be able to provide access for a number of different people from researchers to the analysts and the study directors. Where multiple groups are involved the system may be required to handle large quantities of samples and multiple stability studies of varying durations. In setting up such a system it is necessary to answer the following questions:
What would each group want?
What is needed to make it flow?
The flexibility of the configuration tools offered by Matrix Gemini means that the systems can be readily adapted to required workflows.
Solution
Matrix Gemini Stability provides traceability and chain of custody tracking by auditing all actions. It is used to define study protocols, track the samples from creation into storage, pulling samples for testing, entering and approving results and then creating graphical predictions of shelf-life.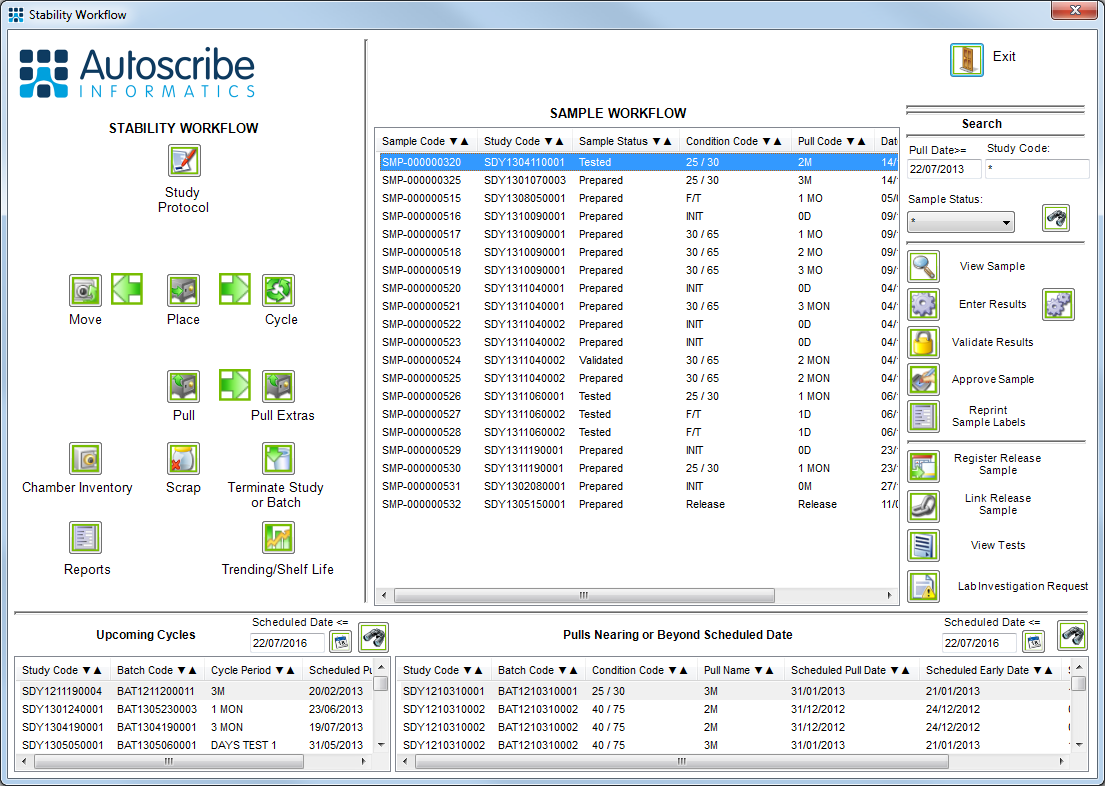 Matrix Gemini Stability simplifies the entire management process for protocol driven studies with associated batches, conditions, pull points, tests and test limits. Matrix Gemini Stability features a protocol designer which accommodates FDA and ICH (International Council for Harmonization) Guidelines and a result database to record test results.
Typically, samples of products are stored in controlled environments that include elevated temperatures and high humidity in order to accelerate the effects of recommended storage conditions. Samples are taken at defined time periods and tested. Test results are then plotted on a trend curve that enables the prediction of shelf life during the course of a 2 to 3- year study in the case of pharmaceuticals.
Products may be stored in different packaging to test the most effective approach and in many cases conditions are cycled e.g. container upright, container inverted, light, dark etc.
Matrix Gemini includes a study protocol management module whereby the conditions and test points, known as pull-points, are defined as well as any cycling requirements. It also allows for the definition of what tests are performed at each condition/pull-point combination.
A stability study can then be associated with one or many batches of product which may differ according to packaging, production site, production batch etc.

Benefits
Users of Matrix Gemini Stability have reported a number of implementation benefits.
These include:
User friendliness
Ease of configuration to meet specific user requirements
Early shelf life predictions
The ability to view stability data relevant to one study on one screen
The ability to sort by different fields and/or filter by multiple fields to find data quickly and efficiently
The ability to keep users informed automatically as samples are pulled and requests are completed
Matrix Gemini can be configured to meet the needs of pharmaceutical laboratories whether they are in a QC or research environment. Extension into other industries where products are subjected to shelf-life testing is also supported. Examples include food, adhesives and packaging.
For further information, a brochure and a case study look at Matrix Gemini LIMS for Stability Studies.