Discover the advantages of a LIMS for your laboratory
---
A Laboratory Information Management System (LIMS) allows you to effectively manage the flow of samples and associated data to improve lab efficiency. A LIMS helps standardize workflows, tests and procedures while providing accurate controls of the process. Instruments may be integrated into the LIMS to automate the collection of test data, ensuring they are properly calibrated and operated by trained staff only.
Today's laboratories generate vast amounts of valuable data. Tracking samples and associated test data through the laboratory, and using that data to generate certificates of analysis, management reports and other information-based insights is important in managing and optimizing the laboratory and the business it supports. Laboratory Information Management Systems (LIMS) have evolved to manage the laboratory workflow, organize the data efficiently and support the business of the laboratory. In addition, they can drive and support regulatory and standards compliance.
Here are some of the workflows and data points that a LIMS organises: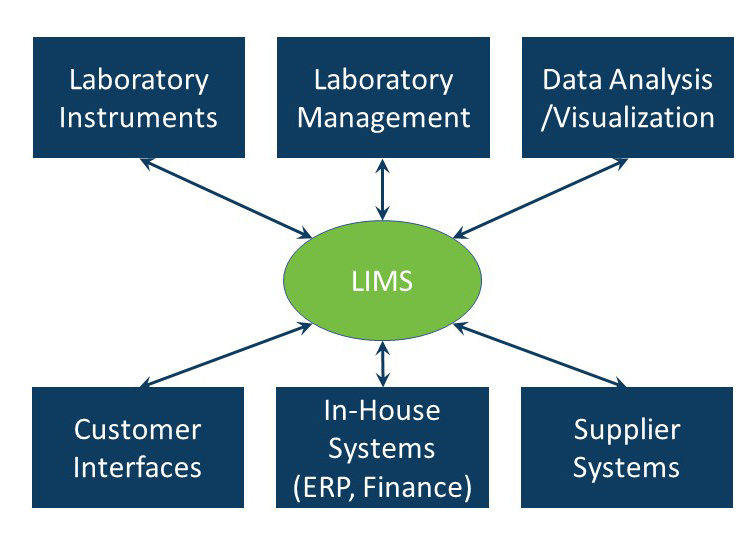 Key Advantages of a LIMS
Not all LIMS are equal but a properly set up LIMS will drive efficiency within the laboratory and integrate it with wider business functions. The key advantages of Autoscribe LIMS include:
Defining and enforcing standard workflows – ensuring procedures are always followed
Eliminating transcription errors through instrument integration
Integrating with other systems (ERP, Accounting) to increase process efficiency
Reducing the management and reporting overhead of the laboratory - a single electronic repository for all operational data; making the paperless laboratory a reality
Reducing costs and increasing productivity through more efficient working
Supporting regulatory compliance including ISO17025, FDA 21 CFR Part 11, GxP
LIMS Features and Advantages
While not all organizations have to work to specific regulatory guidelines or standards many LIMS features designed to support compliance are relevant to the majority of laboratories. These include:
Enforcing standard operating procedures to ensure repeatability.
Managing staff training and competency.
Maintaining and calibrating instruments appropriately.
Managing inventory and supplies.
Tracking and managing the location of samples.
Managing corrective and preventative actions (CAPA) as part of the quality improvement cycle.
Advantages of a Highly Configurable LIMS
A highly configurable LIMS offers all the advantages of a fully functioning LIMS with the additional advantages of meeting the unique needs of each laboratory. A configuration centred approach has the added advantage of providing a LIMS that is tailored, adaptable, supportable and upgradable throughout its life.

The additional advantages of a highly configurable LIMS include:
The most appropriate (the best) LIMS workflow for every scenario, every time.
Easy for staff to learn and adopt.
A user-friendly system that aids their daily routines.
Elimination of unnecessary workflow steps and clicks through the system.
Faster, more efficient and more productive working.
Support for individual workflows per individual, group or location.
Supports a single user or multi-department and multi-national systems.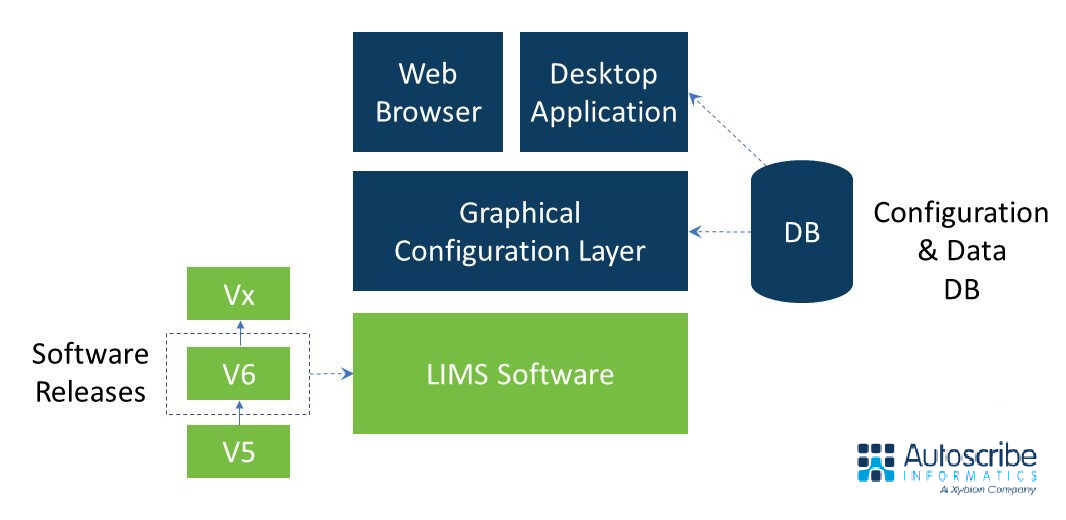 Matrix Gemini LIMS combines a highly configurable architecture with graphical configuration and software stability

Advantages of Matrix Gemini LIMS
Matrix Gemini LIMS incorporates over thirty years of development and is used in laboratories around the world, in nearly every country. Matrix Configuration Tools provide superior flexibility which results in fast implementation and an interface that is familiar and comfortable for each user. Autoscribe Informatics' solutions' unique graphical configuration capabilities require no custom coding to ensure an exact fit of the system to customer requirements. Configuration, not software coding, allows the system to be adapted to perfectly fit each scenario without compromise. It is important to note that the underlying software never changes during configuration. It is the same for every user. The configuration of the screens is held within the LIMS database itself allowing users to update their software without affecting their configuration at all. In addition, a product that is easy to configure results in a long system life and therefore a reduced cost of ownership. Matrix Gemini LIMS, therefore, offers all the advantages of a sophisticated and highly configurable LIMS plus the unique advantages outlined below.

The additional advantages of Matrix Gemini LIMS include:
The same underlying software for all customers, allowing simple upgrades without reconfiguration
Configuration changes are held in the LIMS database
Configure once for both desktop and web applications
No software coding (C#, HTML, Java etc.) skills are required
Graphical tools allow configuration directly by customers
All configuration changes, even by the customer are fully supported
Seamlessly upgrade to newer versions without reconfiguration
Benefits of a LIMS
The major advantage of a LIMS is that it provides a single platform for all laboratory activities, enabling all relevant information to be kept in one place, driving a paperless laboratory approach. Electronic interfaces allow analyzers, chromatography, mass spectrometry and other instruments (simple and complex) to be connected and directly transfer test results to the LIMS. The resulting data is held in one secure database rather than a multitude of spreadsheets and notebooks. Many of our customers say that the most important advantage of a LIMS is being able to easily search a single source of data for the information needed. Whether quickly re-printing a 5-year-old certificate of analysis or analyzing trend data from a specific test type over a longer period of time, the data can be extracted and visualized at the touch of a button.

If you are not currently using a LIMS or are thinking of replacing your current LIMS solution then ask for a demonstration of Matrix Gemini LIMS today!