Prove your system meets regulatory requirements using LIMS Validation.
Matrix Gemini LIMS is widely used by companies that need to comply with the regulations created by the FDA and equivalent regulatory bodies. To be suitable for use in regulated industries the operation of the system must be validated.
What is LIMS validation?
Autoscribe Informatics have been building and implementing LIMS for regulated laboratories for over 30 years. While it is still the responsibility of our customers to prove their compliance with the regulatory authorities, Autoscribe have many years of experience in providing services to help our customers operate their Matrix systems according to regulatory requirements.
LIMS validation is used to ensure that the LIMS fulfils its intended purpose. It is a vital step in regulated environments to ensure data integrity and prove compliance.
Evidence that the software satisfies its requirements must be rigorously documented to satisfy regulatory authorities.
Typical steps to LIMS validation
There are many aspects to LIMS validation. A detailed User Requirements Specification (URS) is the critical foundation stone because companies must demonstrate that their LIMS fulfills these requirements.
A Functional Specification (FS) is developed to match the URS and defines the LIMS functionality. Other critical steps towards LIMS validation include:
Creating a System Validation Plan
Verifying adherence to 21CFR Part 11
Completing a Risk Assessment
Installation Qualification (IQ) – demonstrates correct installation of the LIMS
Operation Qualification (OQ) – proves the LIMS operates as expected
Performance Qualification (PQ) – confirms the performance of the LIMS in a customer environment with customer data
Once these steps are successfully completed a final LIMS Validation Report is created and signed-off that captures the process and the results.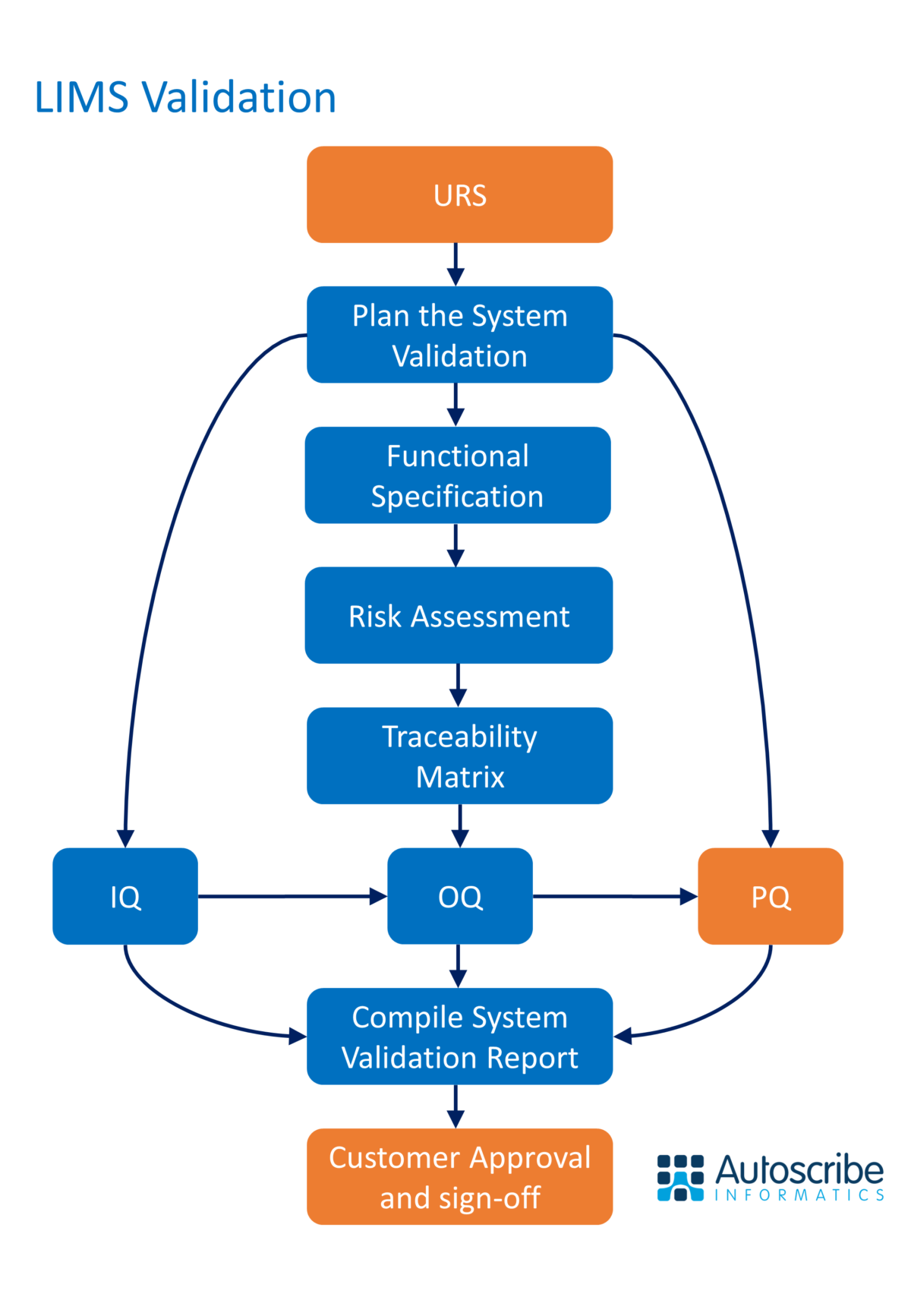 LIMS validation of configurable systems
All Matrix products and customers have the same core software, but the system is configured to look and function differently for every system using Matrix Configuration Tools. Matrix configuration does not change the core software. Instead, configuration is achieved using these highly flexible tools (rather than a scripting language or software code) to meet user-specific business requirements. This method of configuration ensures that Matrix LIMS fits into GAMP (Good Automated Manufacturing Practice) 5 Category 4.
Using Autoscribe's LIMS validation services
Autoscribe Informatics can help when it comes to validating your Matrix LIMS. Each customer must decide how thorough their validation of LIMS needs to be. Autoscribe Informatics can offer you advice including the degree of validation required to provide an acceptable level of risk for your business.
21CFR11 checklist
FDA 21CFR Part 11 principally defines the criteria related to electronic signatures that must be implemented. Download our 21CFR11 checklist to discover how Matrix Gemini LIMS meets these requirements
Related content
White papers

LIMS play an increasingly important part of R&D and manufacturing processes and the benefits are widely recognized.

White papers

LIMS system validation is essential to prove compliance in regulated industries.

Services

Autoscribe Informatics provide technical LIMS Consulting. Let our expert consulting team handle project implementation, validation and management.
Let's Talk
Ready to get started? Contact us today.
Let's connect and we'll arrange a Matrix LIMS demo.