Booths #3016, 3017, PITTCON, Chicago, IL, USA, March 5th – 9th 2017
---
Autoscribe Informatics will be showcasing two new capabilities for remote usage of its Matrix Gemini LIMS (Laboratory Information Management System) at PITTCON 2017. The Matrix Gemini Field Analytics System extends the use of the LIMS to the field, allowing data to be recorded off-line and uploaded to the LIMS when an internet connection can be re-established. The new Web Portal allows third parties access to relevant data, reports and metrics produced in Matrix Gemini.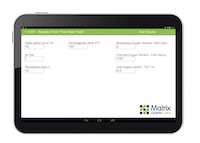 The Matrix Gemini Field Analytics System is designed to operate on an Android tablet or mobile device and sync with the Matrix Gemini LIMS database. It enables users to select and download the sample information they want from Matrix Gemini. The sample data can be edited and relevant test results recorded off-line. Updated results are stored until an Internet or mobile data connection becomes available and it is convenient to upload the data to the Matrix Gemini LIMS database server.
The integrated web portal will be of particular interest to contract laboratories and multi-site organisations. Results, reports (such as Certificate of Analysis documents) and other relevant data can be made available to a third party through a web browser, using a unique password protected login. The Web Portal allows users to view data specific to them only.
John Boother, President of Autoscribe Informatics, commented: "Remote access has always been an important part of Matrix Gemini with a web user interface supplied as standard. Now we have further extended remote usage of Matrix, bringing significant benefits to an even wider cross section of users."