Autoscribe Informatics has published a useful downloadable 9 page guide: Matrix Gemini LIMS for Environmental Labs (
www.autoscribeinformatics.com/pdfs/matrix-gemini-lims-for-environmental-labs-brochure.pdf
) highlighting the use of its Matrix Gemini LIMS (
Laboratory Information Management System
) for the testing of water, air, gas, soil, and/or leachate samples in environmental laboratories. This new publication highlights how Matrix can be readily configured to accommodate varying local and/or national regulatory requirements.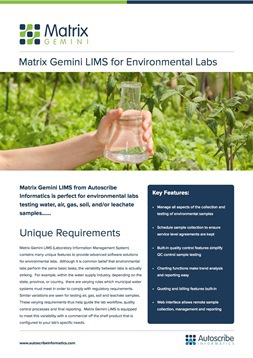 These varying requirements will guide the laboratory workflow, quality control processes and final reporting. Matrix Gemini contains many unique features to provide advanced software solutions to meet this variability, all in a commercial off the shelf product that can be configured to an environmental laboratory's specific needs. In particular, the built-in Matrix configuration tools not only allow the setup of workflows and screens without the need for programming but also easily enable any future modifications to be made in the event of changing testing regimes.
Matrix Gemini can manage all aspects of the collection and testing of environmental samples. This includes remote sample collection, management and reporting via the built-in web interface. Sample collection can be scheduled to ensure service level agreements are kept. Built-in quality control features simplify QC control sample testing, while charting functions make trend analysis and reporting easy.
The Guide details how Matrix Gemini addresses the major areas of interest for environmental laboratories, including sample login, sample scheduling, quality control, result entry, control charting, instrument integration and remote sample login/management/reporting. In addition, the availability of additional modules is discussed. These include quotation and invoicing for laboratories who provide billable services; inventory management; instrument calibration & maintenance as well as the Quality Management Suite which includes a training module and a corrective action/preventative action (CAPA) module.