Laboratory testing is an integral part of quality control processes throughout the manufacturing cycle. The cost to a manufacturer of a defective product could be astronomical, not just in terms of any product recall, but also in terms of brand reputation, especially if the defect could result in any form of personal harm. Nevertheless, testing is expensive, both in cost and time. The effective cost of testing also increases further through the manufacturing cycle in which testing is conducted. The cost of the actual test may not be any more expensive, but the item will have accrued increasing manufacturing costs. One way of tackling the cost of testing without compromising overall quality is through frequency testing, also known as periodic or skip testing.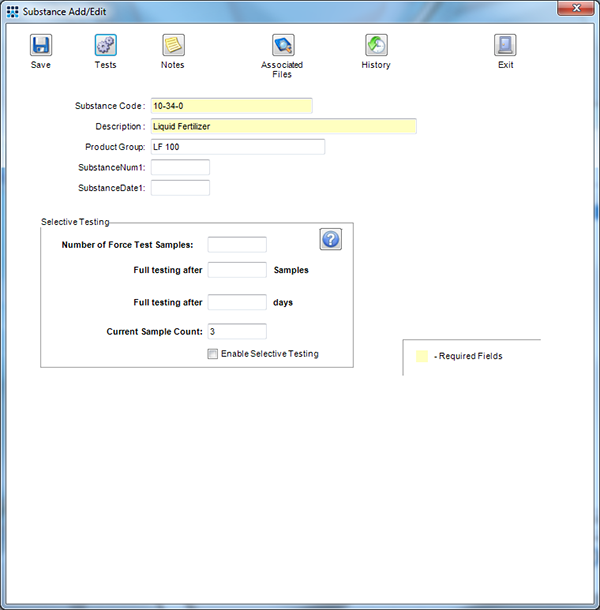 Above is the Substance Add/Edit screen showing the five
Frequency Testing (or Selective Testing) fields

Frequency (or Selective) Testing
Frequency, selective, periodic or skip testing is a sampling technique that saves time and money by reducing the number of tests carried out for some samples. It is generally used when the item(s) being tested are already expected to be of high quality. So, for example, in the testing of raw materials, once a number of shipments from a particular supplier have successfully passed the full testing regime, a periodic testing approach could be adopted for future deliveries of that material from that supplier. Periodic testing means that each batch does not undergo a full range of tests. Some batches may be omitted from testing altogether and/or some batches would undergo a reduced number of tests. The requirements for periodic testing will vary from industry to industry and from product to product. There are no formal guidelines, so frequency testing requirements will need to be built into standard operating procedures and submitted to the appropriate regulatory agency if needed. Frequency testing can be applied to any testing regime from raw materials through to final packaging. In the event of a sample failing a test in a reduced testing regime, provision must be made for the full testing regime to be reinstated until the product quality again reaches a level that would warrant restarting frequency testing.
The role of LIMS in frequency testing
Laboratory Information Management Systems (LIMS) provide a powerful way of improving the efficiency of a laboratory. One of the key attributes of a LIMS is to automate repetitive tasks, which in itself leads to time and cost savings. However, if frequency testing is to be employed, the LIMS needs to be able to accommodate the modified testing regime – otherwise, the benefits of automated testing will be compromised and the economies of time-saving will be lost.
Frequency (or Selective) Testing with Matrix Gemini LIMS
The Frequency Testing Module for the Matrix Gemini LIMS allows the automatic allocation of reduced testing regimes to make sure that users continue to enjoy time-saving benefits during testing. Parameters that may be specified include:
The testing frequency for each test on a substance/product e.g. includes additional test(s) for every nth sample registered
Ensuring that the first 'n' samples of a new substance/product undergo full testing before reduced testing begins
Automatically allocating full testing if a specified time period has elapsed since the last sample of a particular substance/product was tested
Automatically allocating full testing following the failure of the current batch when test results are compared against limits
Frequency testing can be easily set up using just 5 fields on the 'Sample Add/Edit' screen and setting two fields for each test on the 'Substance Test List' screen. A brochure for the Frequency testing module is available. Once again Matrix Gemini is proving its versatility for all users. Built-in configuration tools allow the system to be configured for individual laboratories in a host of industries, while there are a number of additional modules that can be integrated to meet special sampling requirements.

More information on Frequency (or Selective) Testing