A hospital morgue is typically a busy environment with the deceased arriving at all times of day and night to await identification, removal for autopsy or burial. Arriving bodies are tagged and logged to ensure proper identification and then refrigerated.
The Mortuary Manager is designed specifically to track bodies through the mortuary, ensuring a complete chain of custody from arrival to final disposal. Developed in conjunction with a UK NHS Hospital Mortuary it is fully compliant with the UK Human Tissue Act which regulates the removal, storage, use and disposal of human bodies, organs and tissue.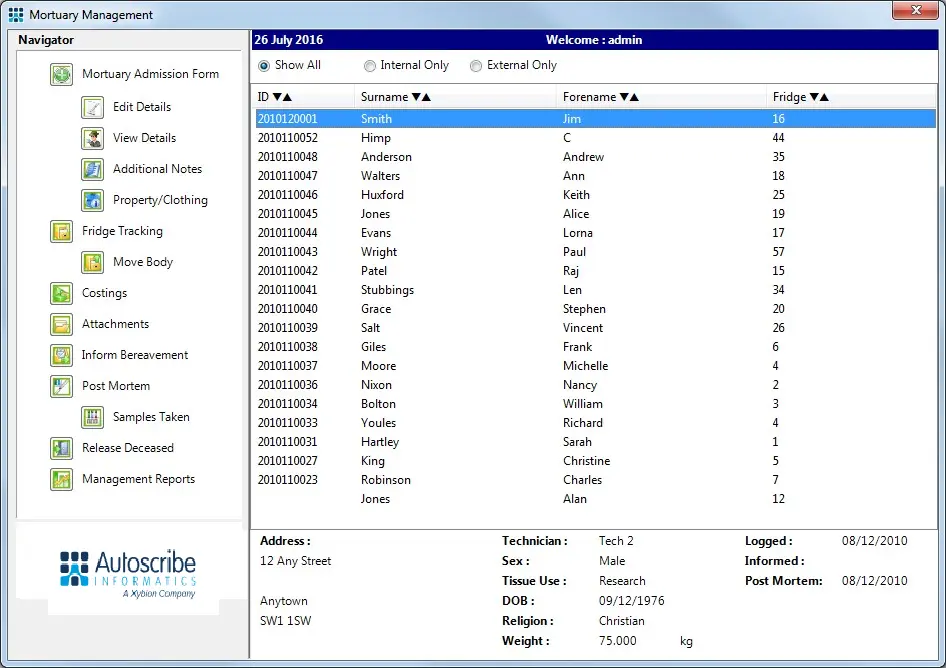 The deceased's details are logged into the system upon entry to the mortuary. Details might include name, address and next of kin and other supporting information. The fields for this information may be easily configured to fit a mortuary's specific needs. Additional fields allow notes to be taken, clothing or other personal items to be noted, and any additional files, such as copies of documents, photographs, postmortem reports and so forth to be added to the deceased's record.
The body is assigned a fridge location which may be easily updated if the body is moved, or perhaps removed for postmortem and subsequently returned, thus ensuring a complete chain of custody.
As with all 'processes' mortuaries have costs associated with them that need to be monitored. The Mortuary Manager can associate costs per procedure that the deceased goes through, thus providing an accurate picture of item costs per body, mortuary procedure costs and overall costs of the mortuary for management purposes.
Key Mortuary Manager Features:

Complete Mortuary/Morgue software package

Track deceased through the mortuary process from registration to release
Secure log-on for individuals or groups of individuals with system access defined by log on credentials
Registration of deceased's full details along with property and clothing
Postmortem results including tracking of samples taken and costs involved
Full management reporting
Audit trail of all changes e.g. movements from fridge to fridge and amendments to information
Dual Windows/Browser interface
Mortuary Manager enables busy teams to keep information about the deceased at their fingertips and optimize operations to maximize productivity.
For further information please download our Mortuary Manager Brochure