Prepare and manage radioactive preparations for patient use with absolute confidence.
Matrix Gemini LIMS for radiopharmacy has been developed in collaboration with leading radiopharmacists. It helps manage the production of specialized radioactive preparations that must be closely controlled and monitored throughout their life. It is a fully pre-configured out-of-the-box solution to meet the exacting requirements of individual radiopharmacy and nuclear medicine departments.
The Complete Radiopharmacy Solution
The Matrix Gemini LIMS for Radiopharmacy Information Management System is a fully adaptable solution to meet the requirements of individual radiopharmacies. It is suitable for radio pharmacies that operate as stand-alone units and those that provide radioactive products to other hospital units. Its flexibility also means that it can support the provision of radioactive material as single injections or as a bulk supply of multiple injections for separation later into individual doses for patient scans. The system can produce the shipping documents required to allow the material to be delivered to the point of use either within or external to the hospital where the products are created.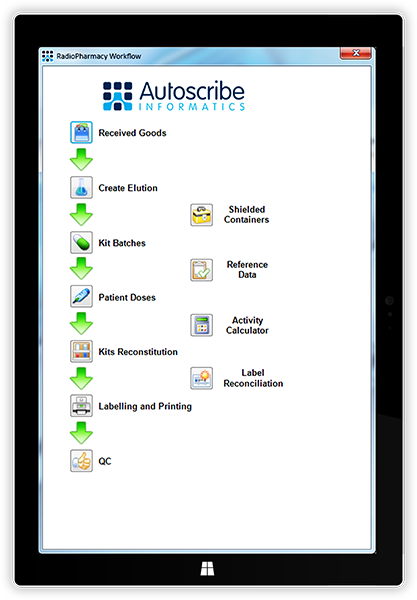 At each production stage, only tested and approved materials and sundries available in the Matrix Gemini Radiopharmacy LIMS for radiopharmacy inventory may be used in the next step of production with the inventory automatically being decremented as materials/sundries are used.
The configurability of the Matrix Gemini Radiopharmacy LIMS means that it can be configured and re-configured to meet both current and future requirements without the need to write "one-off" custom code. The use of this standard but configurable solution means that the potential life of the system is extended and the cost of ownership reduced.

Radiopharmacy/Nuclear Medicine Specific Features:
Some of the systems features include:
A cost-effective, configurable, information management system suitable for all radiopharmacy facilities
Provides full traceability from incoming orders through to production and shipping for regulatory compliance
Inventory management including expiration dates - expired materials are automatically flagged and made unavailable for the production process
Stores dose calibrator check records, generator elution logs and QC test results for later auditing
Ensures workflows, procedures and checklists followed and recorded
Outputs all required labels with or without barcodes
Records internal and external facility checks and deviations
Manages materials in the "holding store" for safe disposal
Can provide audit reports to confirm regulatory guidelines have been met
Can operate as a paperless system to minimize contamination and microbial infection
Next Steps
Discover more about our Radiopharmacy LIMS
Contact Us
Please contact us for more details or a web demonstration.