Food Safety/HACCP Sanitation Monitoring for Food & Beverage Processing/Production
US food Companies must now comply with Food Safety Modernization Act (FSMA) and Current Good Manufacturing Practice requirements (CGMPs). Whether the organization has been following HACCP for years, has already been certified under a GFSI scheme, or is struggling to gain control over their food safety processes, having the right tools and resources can save a lot of time and effort in ensuring compliance and responding to auditors.
The Matrix Gemini Environmental Monitoring module provides a solid framework to document the procedures followed, results of environmental monitoring, and corrective actions taken. The trending features provide an early warning of sanitation problems before they become violations, saving the company the headaches that go with discovering a problem too late to allow production and sales to continue uninterrupted.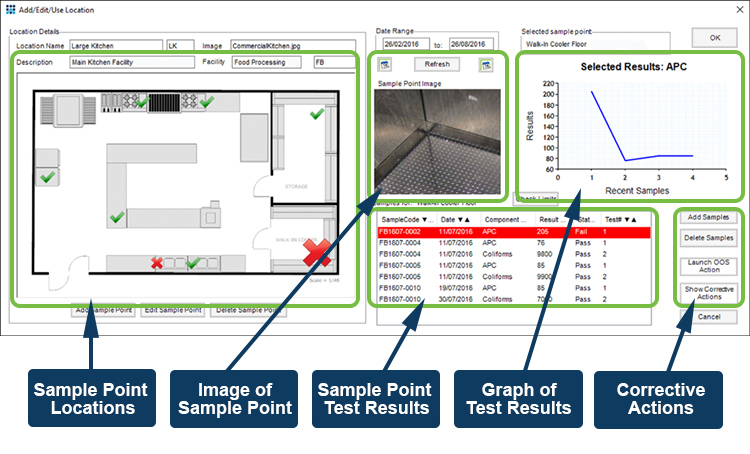 A complete historical record of facilities testing provides clear documentary evidence that demonstrates the company is meeting required food safety standards and driving good practice (especially in the area of HACCP). If there is a problem the Matrix Gemini Environmental Monitoring solution allows food safety and microbiology specialists to show federal investigators when problems started to occur and what was done to correct the issue. The complete audit history of all testing enables early signs of deteriorating food hygiene sanitation to be discovered and proves a proactive inspection regime to avoid problems in the first place.
The Matrix Gemini Environmental Monitoring solution's graphical interface allows food safety and microbiology experts to specify sampling point locations and define how often technicians should take samples from those points. The underlying LIMS solution tracks all samples taken and stores all sample results, with complete version control, ensuring a complete audit trail.
Key Benefits:
Encapsulates food safety/food sanitation monitoring best practices
Proves FSMA/HACCP food safety compliance and CGMP requirements
Links sampling point locations, test results and corrective actions taken
Underlying LIMS solution tracks samples and stores results, with complete version control
Trending analysis of results allows preventive actions
Logs food safety actions with a complete audit trail
The test results of each sampling point can be instantly pulled from the database and shown graphically, providing an instant early warning of deteriorating conditions before a line-stop occurs. The system can automatically trigger corrective actions and increased sampling frequencies or vectoring at suspect sampling point locations to monitor conditions more closely, and can show previous corrective actions taken for any particular sampling point over any date range.

Whether you are already GFSI certified or not the Matrix Gemini Environmental Monitoring solution helps busy food safety/sanitation teams meet their legal audit obligations under FSMA rules. It links test results from the LIMS to sampling points and records out of specification/quality control actions taken in order to keep food production safe.
Often the field sample collection and laboratory analysis functions are separate. Analysis may even be done by a third party contract laboratory. In this case the production facilities may remotely login to see analysis results from the laboratory and act on them, allowing fast collaboration between the sites.
Video Demonstration
See how the Matrix Gemini Environmental Monitoring Solution can help Food and Beverage Producers meet their Food Safety/HACCP Hygiene Monitoring obligations
Next Steps
Discover Matrix Gemini Environmental Monitoring
Food Safety
Discover the TRUE facts about Environmental Monitoring for Food Safety