A powerful completely configurable system for the complete management of all helpdesk software support functions.
Matrix Support Management System (SMS) is designed to help companies track support problems and manage them through to resolution. Users benefit from easily available status information and reports giving details such as issue type, number of calls logged, number of calls resolved, number of calls outstanding, and other management metrics such as time to resolution and actual hours involved.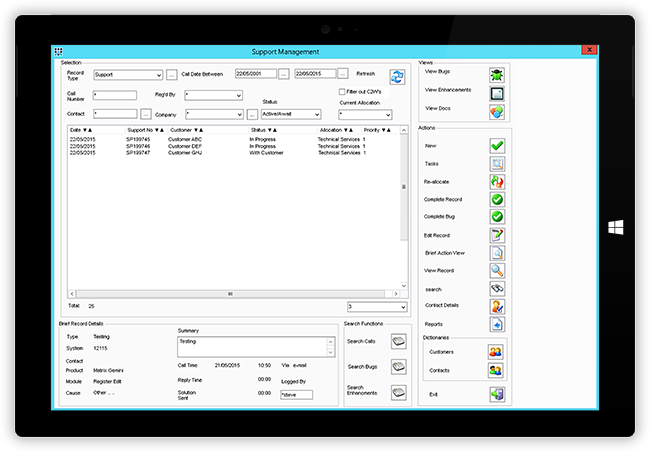 Features:
Accurate tracking of all customer issues
Full audit trail including timestamps and allocated personnel
Completely configurable to fit your exact support desk needs
Graphical management reports for review purposes
Benefits:
Never lose a customer issue again
Quickly search for similar issues and trends
Enable faster resolution of customer complaints
Instant monthly reports highlight trends and issues
100% Visibility
SMS is used by Autoscribe Informatics to log all our customer support issues and is built on our widely used and uniquely configurable Matrix software. Customer contact details such as names, e-mail addresses and telephone numbers can all be stored in SMS. Upon receiving a call from a customer the company from which he/she is calling can be selected from SMS. The support service advisor can then enter the nature of the problem and subsequently the solution in separate database fields.
Call response and resolution times are automatically recorded. Reports include lists of support calls per selected time period and by selected problem type, for example. An outstanding call report is also very valuable.
Any part of the workflow or screens may be configured to fit the exact needs of your support desk.
Next Steps
For further information see our Matrix Support Management brochure.
Contact Us
If you are looking for support management solutions then please contact us to discuss your requirements.