You can improve your laboratory processes with our LIMS solutions. Many of the world's largest companies run and manage their labs with an Autoscribe Informatics LIMS solution. Our LIMS solutions can match your exact requirements without writing any programming code. This enables Matrix Gemini to keep in-sync with your evolving needs.
Advantages of a LIMS include
Automating repetitive tasks
Reducing the risk of errors occurring
Integrating instruments and systems
Ensuring they meet regulatory requirements
Finding significant efficiencies
What is a LIMS?
A LIMS is a Laboratory Information Management System. It is a piece of software that helps you manage samples and any associated data. LIMS have evolved advanced significantly over the years to match the evolving needs of laboratories. They have developed from simple tracking tools to full laboratory planning systems to manage many aspects of laboratory informatics.
Today, LIMS integrate a number of additional solutions, including clinical trials management, sample tracking and inventory management, among others.
Why Matrix Gemini LIMS?
You don't need to be technical to use Matrix Gemini LIMS. The system stands apart from the competition thanks to its flexibility. No custom coding is required, which means any user can configure Matrix Gemini's workflow, screens or menus.
That, in turn, brings down the costs associated with upgrades and support, meaning that not only is Matrix Gemini one of the most powerful LIMS on the market, it's the one that will grow with you as your laboratory changes.
Benefits of Matrix Gemini LIMS
Future-proof solution thanks to easy configuration
Reduced costs of upgrade & support
No need for custom code, anyone can change workflows, screens & menus
Data is easy to access as it is centralized
Real-time reporting keeps you in the picture
Improved lab efficiency
Enhanced data integrity, meaning you can have increased faith in your data
LIMS built around you
Matrix Gemini LIMS can be found in laboratories around the world, spanning sectors from Metals to Pathology and Pharmaceuticals to the Food & Beverage industry.
Because our LIMS has been used in so many different industries, we often already have a LIMS solution that can quickly be adapted for you, using the Matrix Configuration Tools.
For more information on how our LIMS can help you specifically, view our dedicated LIMS industries page.
Get information quickly
It is important that you can access your information at the touch of a button. As Matrix Gemini LIMS centralises your data, either in your own data centre or in the cloud, you can easily retrieve the information you need.
You can enter and retrieve data through your web browser or via the desktop interface.
Make better, more informed decisions
Matrix Gemini LIMS can help you make better, more informed decisions thanks to its sophisticated real-time reporting. This helps you analyze data more quickly, allowing laboratory managers to get access to the right information at each stage of the testing process.
Grow profitability
Our LIMS uses automation to improve data handling and help detect any irregularities. What's more, they enhance data integrity, increase your laboratory capacity and improve efficiency all-round, helping make your laboratory more streamlined, more effective, and more profitable.
The following diagram illustrates how versatile Matrix Gemini LIMS is: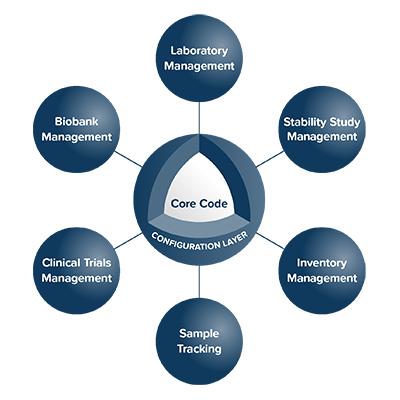 Standard Out-Of-The-Box Configurations
Our standard Matrix Gemini LIMS solutions provide all a laboratory will need to manage its data and processes.
Next Steps
Start your desk research today with our How to Buy a LIMS Guide.
Laboratory Systems
Download our LIMS overview brochure today.
Download PDF
Thank you for your interest. Please complete the form to access this document. We respect privacy and your personal details will not be shared.