The Spring exhibition season has been in full swing for Autoscribe Informatics, with Lab Indonesia and Analytica in Germany following hot on the heels of Pittcon in the USA. Autoscribe joined forces with a local distributor, Agriya Analitika, to provide a substantial presence at Lab Indonesia in Jakarta, which included delivering two technical seminars.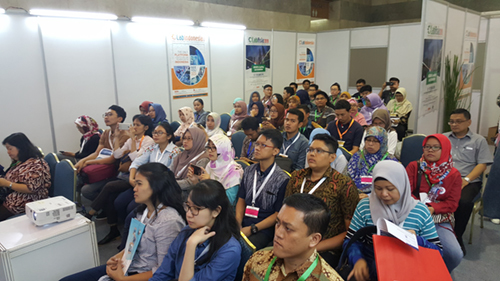 Over 40 people attended the first seminar, entitled "Driving Your Laboratory Management to Meet International Standards and Improve Your Efficiency". The seminar, given by Dr Simon Wood, Product Manager at Autoscribe Informatics, concentrated on the types of standards and regulations that may be applicable to manufacturing organizations and illustrated how LIMS could help organizations and laboratories meet these standards. Particular emphasis was given to GMP and ALCOA guidelines and how customers were putting the emphasis on suppliers to prove they were meeting these standards and guidelines.
More than 60 people attended our second presentation "Laboratory Management Best Practice - Successful LIMS Implementations" even though it was in the afternoon session of the final day of the exhibition. Not only that, a significant number of people came to our booth following the presentation to find out more about LIMS and Matrix Gemini.
The overall number of visitors was consistently high over all three days of the show, with many coming from the manufacturing QA/QC sectors. The visitors to our booth showed a good knowledge of LIMS and its benefits. This reflects the efforts Agriya Analitika have put in over the past few years to highlight the capabilities that LIMS has to offer, and the excellent attendance at our seminars indicates that there is a strong desire to learn even more.
Food for thought
With lots of interest from the food industry, Lab Indonesia was a great opportunity to demonstrate Matrix Gemini in action, covering many aspects of food QC and safety testing. Applications range from in-house testing and analysis to contract lab testing and environmental monitoring programmes. Visitors were interested in a number of issues concerning food traceability, for example around halal food products and in the processing of Palm Oil. Matrix Gemini can maintain a clear, audit-trailed, searchable record of all samples and test results and reports issued. It can demonstrate the date/time of sampling, of results, and details regarding how/when they were reported, by whom and to whom. In the event of a possible product recall, it is possible to quickly retrieve test results for every lot analyzed. This makes it possible to query/analyze historical data to drive process improvement since all results can be documented and any trends identified. And, of course, being completely configurable, Matrix Gemini can be adapted to follow the workflow of any food testing lab without changing the underlying code. The graphical interface and screen editor provided in the configuration tools can be used to meet user requirements in terms of workflows, screen designs, menu designs, terminology, numbering schemes, report designs and much more. Using Matrix Gemini a system can be built to meet a food lab's exact needs without compromising supportability and upgradeability or risking obsolescence of functionality.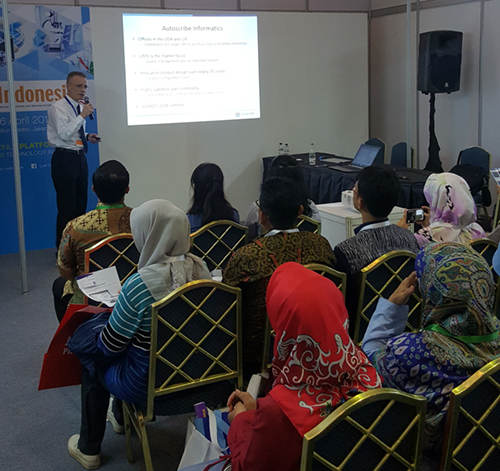 Taking it beyond testing
Food testing laboratories tend to be accredited to standards such as ISO17025, which cover a wide range of topics, many of which extend beyond the fundamental handling, testing and reporting of samples. Matrix Gemini LIMS (Laboratory Information Management Systems) provide an ideal framework for these rigorous requirements to be implemented. BIMS solutions apply the information management principles used within LIMS to more general business data to provide the capability to track and manage business-critical information. Areas covered can include Competency Tracking, Asset Management, Customer Feedback, Audit Planning, Document Management and CAPA (Corrective and Preventative Action Management).
Environmental monitoring for food safety
A fundamental element of ensuring food safety is to prevent contamination in food manufacturing and processing environments. Carrying out and monitoring the results of regular tests for contamination at key locations in the manufacturing process and supply chain forms part of an environmental program that can be implemented by organizations to prevent contamination before it occurs. Matrix Gemini's Environmental Sampling Management module is designed for the management of sampling of sanitary conditions in production and storage areas in food/beverage production and other industries. This module uniquely links sampling point locations, test results and corrective action plans in one easy to use graphical environment. It can provide a visual mapping of results by status and instant graphical identification of the location where a failure has occurred. Once results are validated then reports can be generated very quickly and easily. Trend analysis of the results can be made without needing to transfer the information to a separate, non-validated spreadsheet. This allows early preventative action to be taken.
In this digital age, there are many ways to communicate with individuals and businesses, but Lab Indonesia once again illustrated the power of talking to people face-to-face and being able to present the capabilities of Matrix Gemini in a live demonstration.